Seville Cultural
Home to some of Spain's most important monuments, Seville is a must-visit. The spotlight shines on, among others, the bullring, cathedral and Plaza España. This is one of our TUI Collection excursions, which give you a local flavour of the destination while showcasing its unique, authentic and responsible values.
You'll strike out early for the Andalusian capital, leaving plenty of time to explore some of its cultural and architectural highlights. Drive by its legendary Maestranza bullring, its twelve-sided Torre de Oro and the colonnaded Plaza de España – of Star Wars fame. And no trip to Seville would be complete without taking in the awe-inspiring Gothic cathedral and the Giralda tower, so that's on the list, too.
Then it's off to wander the former Jewish quarter of Santa Cruz, lined with orange trees, pretty plazas and cool patios. And before heading back, you'll have some free time to explore on your own and grab a tapas lunch – and maybe a souvenir or two.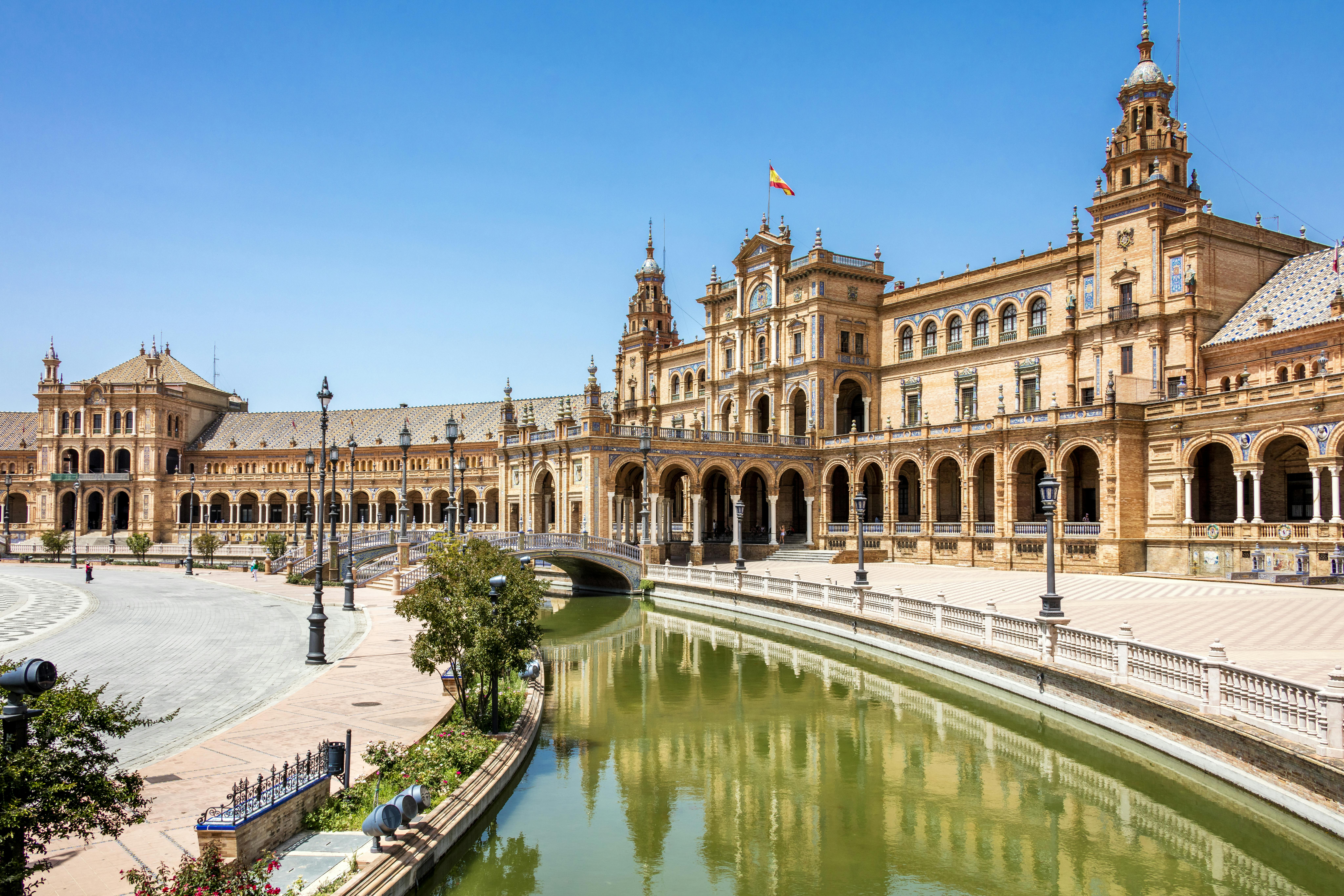 Zoomarine Ticket Only
Enjoy a day at Zoomarine, Portugal's only animal and marine park, with this great value ticket-only trip. Getting to and from the park under your own steam, you'll be free to spend as long you like enjoying the attractions.
Top billing goes to the dolphin shows, where you'll watch these frisky mammals perform feats and tricks in their pool. And if you're up for more aquatic action afterwards, there are also the sea lion shows, water birds and an aquarium, too. Then peer into the alligator compound or watch a bird of prey exhibition, gazing into the skies as falcons and eagles swoop through the air.
When you want something different, have lunch at one of the restaurants or while away your time sunbathing on the lawns, splashing in the pool or braving the amusement rides. There's a big wheel, flume and pirate ship to keep the kids happy while you chill.
4×4 Safari and Benagil Caves
There are two way to explore the Algarve's country and coast, and this tour combines them both – 4×4 and boat. You'll off-road through the Serra Caldeirão in the morning, taking in villages, valleys and flora, then hop on a boat to Benagil Caves with a wine tasting stop in between.
We'll kick off this full day tour with some thrilling off-road driving along the edge of the valleys, up the hills and through the lowlands of Serra Caldeirão. En route, you'll be told about the area's flora, fauna and culture, and you'll get to stretch your legs with breaks to taste marmalades, learn about cork trees and taste some wine at Quinta dos Arcos.
Then, it's on to the boat to trundle along the Algarve coastline towards Benagil Caves where you'll drop anchor for a swim and the chance to look for wildlife. These caves are only reached by water, and their spectacular rock formations – with a hole through the roof – will have you reaching for your camera.
Ophelia Catamaran Tour for Adults – with Transfer
Bizarre rock formations chiselled by the Atlantic winds over time are just a few of the sights you'll see during this adult-only catamaran cruise. With the wind behind you, you'll explore the coves, grottoes, beaches and fishing villages of the Algarve on a relaxing full day boat trip with transport.
You'll sail from Portimao by the fishing village of Ferragudo, a fantastical landscape of strangely shaped grottoes, natural rock channels, caves and stunning rock formations that have been sculpted by the seas over thousands of years. Smaller boats will take you to the grottoes of Algar Seco and as the sun filters through the holes and fissures in the caves and rocks, it creates a magical reflective effect on the water.
And then, while the crew prepares a delicious barbecue lunch on board you can soak up the sun on deck or cool off in the inviting water – it really is beautifully clear. Finally, you'll anchor in a bay and you'll be transported to the beach where you can do some snorkelling, play a bit of frisbee or volleyball, or simply relax on the sand.
Ophelia Catamaran Tour for Adults – with Transfer
Seville City Tour & Shopping
As the heart and soul of Andalusia, Seville makes for a mesmerising daytrip. You'll explore the city's cobbled streets, secret patios and colossal cathedral on a panoramic bus tour. There'll also be free time to indulge in some shopping.
Once we arrive, you'll have ample opportunity to discover its world-class monuments on a bus tour to snap some photos of the Maestranza bullring, the Torre de Oro and the grand, colonnaded Plaza de España.
Plus, you'll be able to take a closer look at the impressive Gothic cathedral and amble around Santa Cruz – the old Jewish district. Here you'll find lanes laced with pretty plazas, orange trees and patios. Afterwards, you'll have some free time for lunch and a spot of shopping.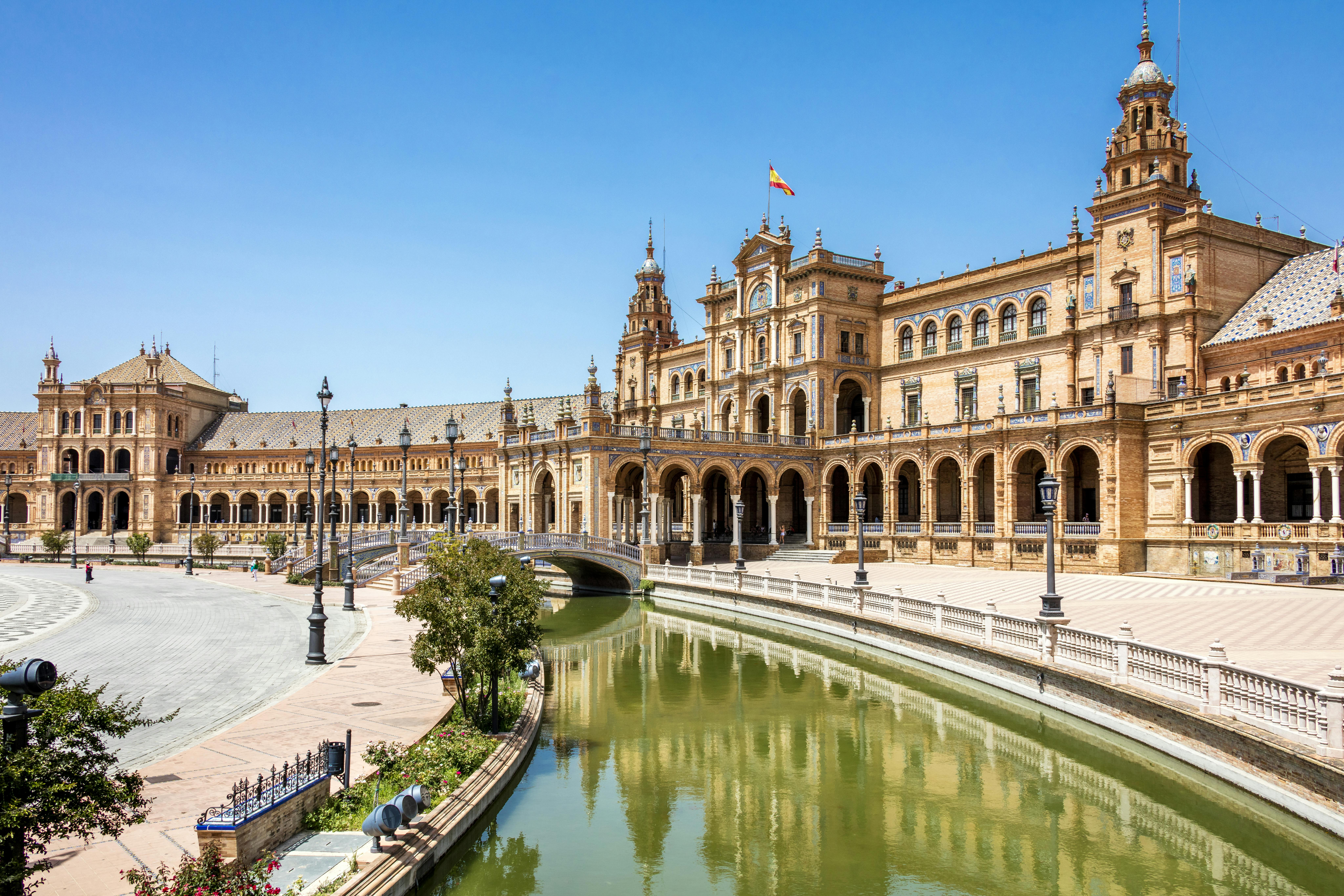 Aquashow with Transport
There are plenty of thrills and spills to be had at this amazing water park. With everything from a giant water pool and a children's splash area, to bird of prey, parrot shows and reptile performances, there's fun for all the family.
There's plenty to entertain the whole family with rides such as the Slow River, The White Fall and the Great Water Rollercoaster – the biggest aquatic rollercoaster in Europe. There are also wave pools, a Jacuzzi and much, much more.
When you need to take a breather, there are loads of other activities at the park too. There's the birds of prey and parrot shows, alongside a reptile show with snakes and iguanas. It's a great day out.
Ophelia Dolphins & Caves
Seeing dolphins in their natural habitat is one of life's special experiences. Observe these fascinating and friendly creatures on this cruise down Portugal's sunny, south coast. Welcomed aboard by the crew, you'll set sail from Portimao harbour. Passing caves, coves and beaches, your knowledgeable skipper knows just where to head. Both bottlenose and common dolphins call this place home and they just love to show off. A captivating Algarve experience.
POSTCARDS OF VICENTINE COAST
Wedged between the waves of the Atlantic and the Monchique Mountains, the Vicentine Coast has stunning landscapes, lots of flora and fauna but very few people. This is a wild world where you least expect it. Highlights include Costa Vicentina Natural Park, Carrapateira and Sagres.
You'll head to Aljezur, in the very heart of Costa Vicentina Natural Park, and then through lush landscapes to Carrapateira. Here, the views over the dunes are a sight to behold. Next, drive towards the Atlantic and hug the coastline taking in views of tall schist cliffs and strands flanked by huge rocks. Break for lunch in a beachfront restaurant and savour a shellfish cataplana – the Algarve's signature dish.
After lunch, head to Cape St Vincent – the most southwesterly point in Europe – where the cliffs rise 75 metres from the sea. Your adventure has one final stop at Sagres, a tiny fishing harbour with a big history. It was here that Prince Henry the Navigator planned his voyages of discovery.