Fuerteventura Caves and Farm Tour
Fuerteventura is famed for its miles of sandy beaches but head inland and you'll find a land that time forgot. This trip takes in colonial churches, whitewashed villages and an aloe vera plantation among other attractions. This is one of our TUI Collection excursions, which give you a local flavour of the destination while showcasing its unique, authentic and responsible values.
First up, you'll head to an aloe vera plantation to learn about this typical local product. Then, it's on to Pajara to visit its enigmatic church with Aztec-inspired carvings. Next, we'll go to Ajuy, a remote village with a black-sand beach. Check out the caves hollowed out of the cliffs by the waves.
We then go deep into the western hills to discover beautiful Betancuria, the island's first capital and now a sleepy, whitewashed village. Here, you'll Visit St Mary's Church. The last stop is Finca Pepe, a farm renowned for its cheeses, where you'll also taste gofio, the local biscuit.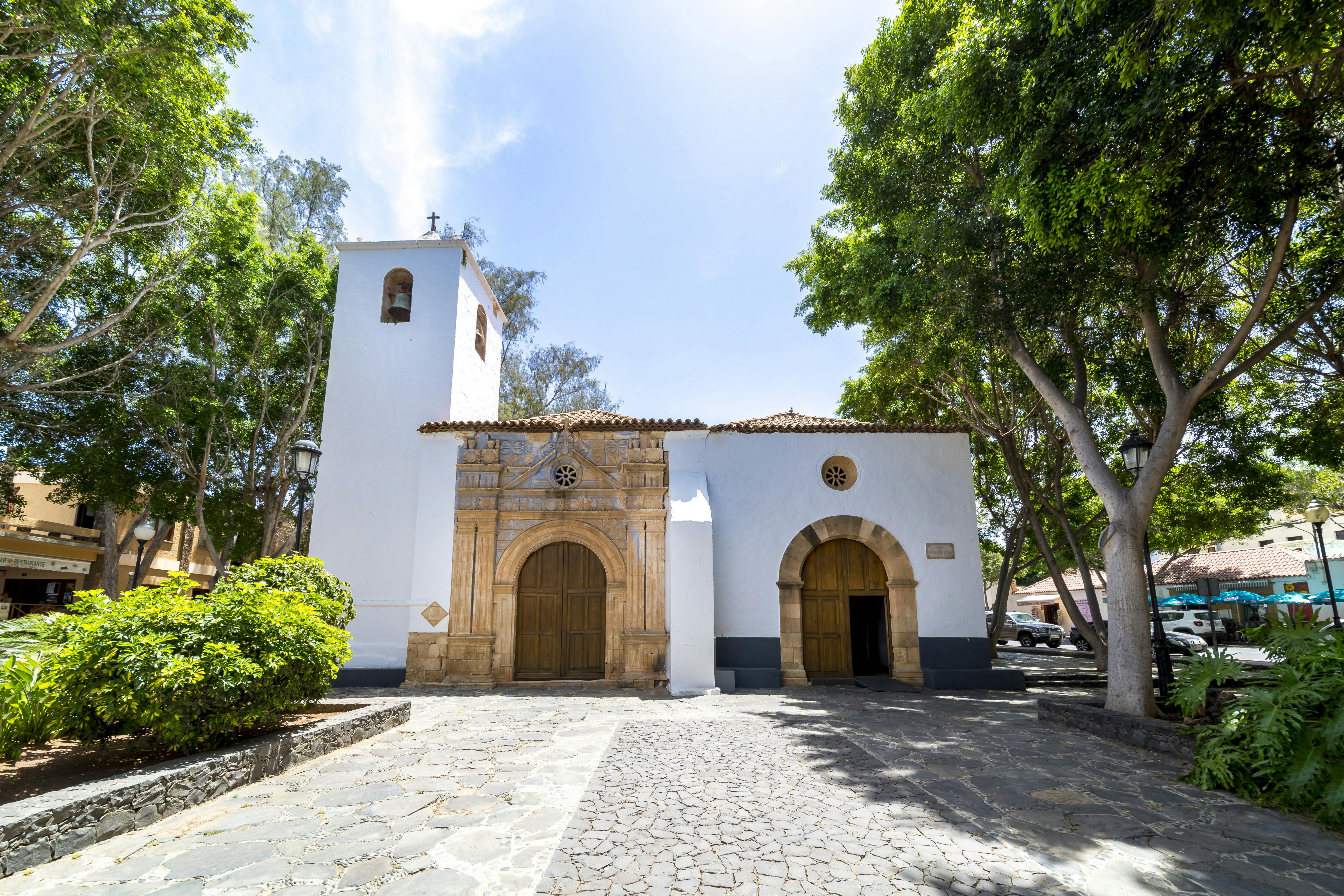 Fuerteventura Caves and Farm Tour
Acua Water Park – With Transfer
The only waterpark in Fuerteventura is the ideal spot for a day of fun in the sun. Acua water park is bursting with attractions. Kids and adults can splash about in wave pools, whirlpools, lazy rivers and even dive into the depths of the Dark Cave.
There's no better way to cool off from the midday heat than in pools and slides of all shapes and sizes. Kids have their own zone to safely play with animal-shaped slides and mushroom sprinklers, but if you're looking for something to get the adrenaline pumping through your veins then there's the multilane racer where you'll be able to clock up speeds of up to 30km/h.
What's more there's the wave pool, black hole and kamikaze to test your nerve, or to slow down the pace you'll find the whirlpool and lazy river just the ticket. And to refuel your energy levels there are self-service restaurants and food outlets selling all kinds of tasty treats.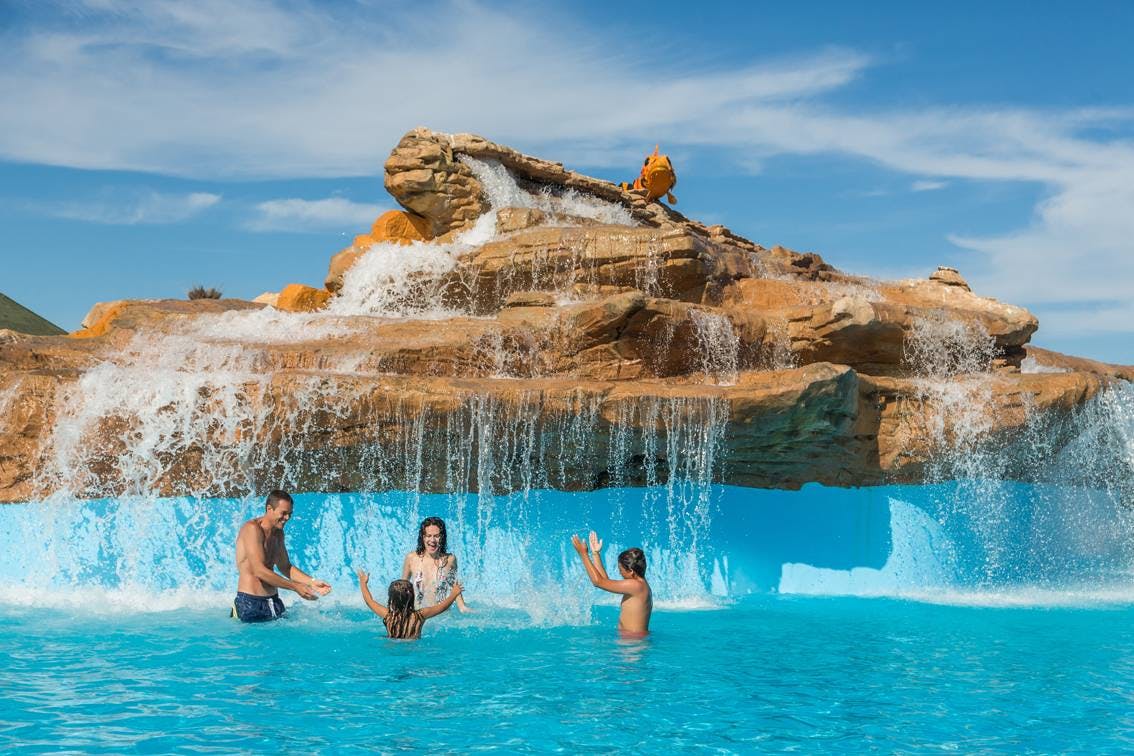 Acua Water Park – With Transfer
Oasis Wildlife Fuerteventura Tour
Oasis Park in Fuerteventura takes you on a voyage around the world, animal by animal. And to make the most of it you'll join an expert guide for a tour around the park followed by lunch and preferential seats at the must-see live animal shows.
We'll kick off your wild day out at Oasis Park with a tour around the enclosures and exhibitions. Your guide will show you into the African Savannah and beyond where you'll learn all about the conservation and investigation projects while seeing these majestic animals up close.
Then it's time to freshen up with a buffet lunch. And to make it easier, a bus service to the Patio restaurant is all included. Afterwards, you'll be able to enjoy the rest of the park at your own pace and make the most of your VIP seats at the birds of prey, fauna and sea lion shows. You'll also have the option to join a tour of the botanical gardens with the botanist.
Oasis Wildlife Fuerteventura Tour
Buggy tour
The rugged terrain and winding trails of Fuerteventura make it ideal for a buggy drive. And this tour's a three or four-hour dream for adrenaline junkies, with plenty of breaks to relax things down a bit and take in some of the island's most beautiful and deserted spots on a buggy adventure.
The day kicks off as you navigate through rugged desert landscapes. You'll speed down winding sandy trails, spewing up clouds in your wake – under the watchful eye of ancient volcanic craters. Enjoy the breathtaking views as you speed along off-road routes in search of untouched places in Fuerteventura. Then, a canter through the undulating trails brings you home.
What's more, with different routes to choose from, you'll get to experience the island's ever-changing landscape in an exciting, action-packed way. All you'll need is your driving licence and sense of adventure.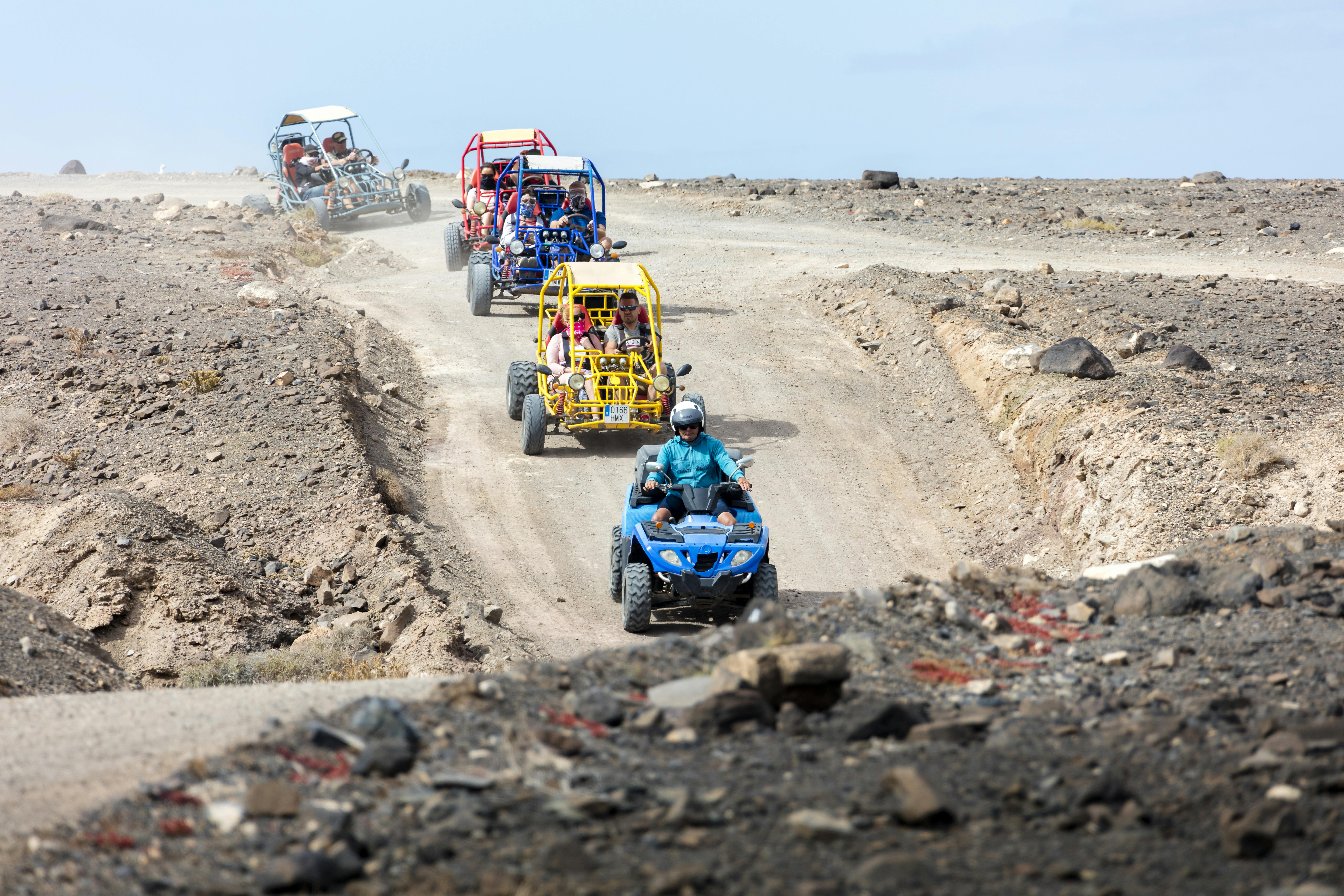 3 island cruise
Seeing one island's crystal-clear waters and marine life from a glass-bottomed boat is a treat. Getting to take in three different ones is positively spoiling yourself. This morning cruise connects the dots between three of the Canary Islands – Lanzarote, Lobos and Fuerteventura.
As you set off on your aquatic adventure, the glass-bottomed boat gives you a unique underwater perspective as you float over to Playa Blanca, the southernmost town in Lanzarote. You'll be able to do some restorative sunbathing on the boat's deck or take some free time to explore.
Back on board, lunch is served before you sail by Lobos – a tiny, uninhabited island between Lanzarote and Fuerteventura. Contemplate the coastline and view the sea life from the panoramic windows, then snorkel in the warm Atlantic waters just off shore before heading back to port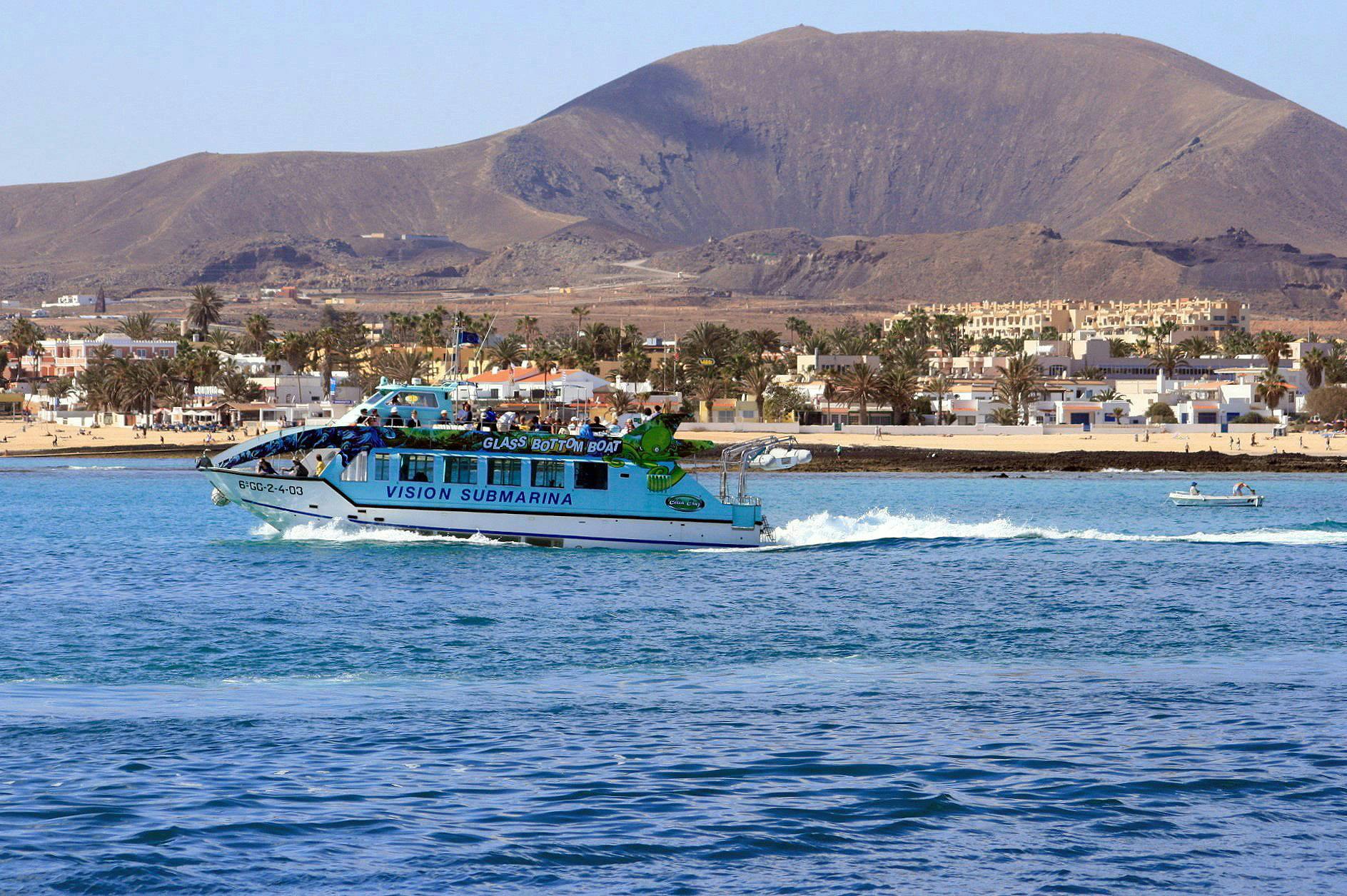 Oasis Wildlife Fuerteventura Ticket
Oasis Wildlife is home to a huge variety of birds, reptiles and African animals, living as close to their natural habitat as possible. There's a successful breeding programme here and recent arrivals include giraffes, sea lions and hippos.
Get up close to many of them at the sea lion, parrot, reptile and birds of prey shows. In between shows, you can come eye-to-eye with the giraffes on the viewing platform, laugh at the antics of the cheeky chimps, admire the elephants and take pictures of the meerkats, otters, zebras and hippos –the list is endless.
There is also an optional camel ride available, adding adventure and laughs along the way.
Oasis Wildlife Fuerteventura Ticket
Catamaran cruise to three islands in Fuerteventura
Watch the underwater landscapes and the endless fishes in this crystal-clear waters thanks to our glass-bottom deck and the 16 panoramic underwater windows. You may also spot some dolphins that live in these waters.
The first stop will be Lanzarote. The catamaran set course to the beaches of Papagayo in Lanzarote, where you can take a refreshing bath in the turquoise waters.
Then you will continue your trip to Isla de Lobos (Wolves Island). This small island is a natural reserve and the name is due to the many sea lions that lived here. Here you can enjoy the nature and superb clear waters. At 16:00 you will sail back to Fuerteventura.
During the stops you can swim, dive or even snorkel (all equipment will be provided). Moreover, you can enjoy a savory traditional menu on board consisting of fried fish, papas arrugadas (a canary specialty), salad, fresh fruit and a drink.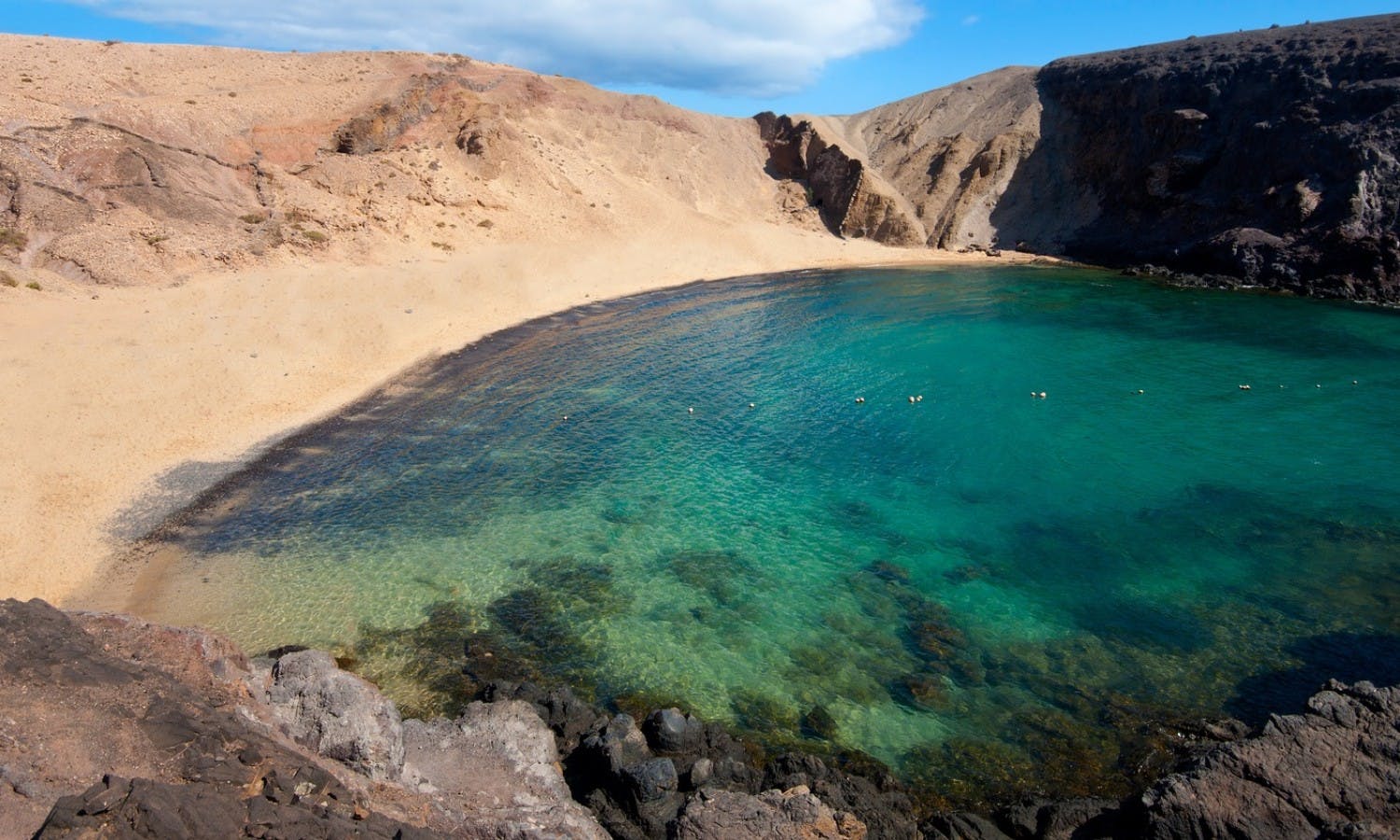 Catamaran cruise to three islands in Fuerteventura
Whale & Dolphin Watching Corralejo
This one-of-a-kind excursion offers you the chance to explore the ocean with staff from the Canarian Institute of Nature Studies. There's an amazing variety of underwater life in the seas surrounding Fuerteventura, and you'll get the chance to see seabirds, turtles, cetaceans and more during the cruise.
By joining this tour, you'll be able to learn about ocean-cleaning campaigns and turtle rescues – in collaboration with the Canarian Institute of Nature Studies – and many other research projects that help preserve the richness of the north Atlantic biosphere.
The three-hour-long cruise includes crackers, fruit, juice, soft drinks and water for you to quench your thirst while contemplating the romantic infinity of the Atlantic.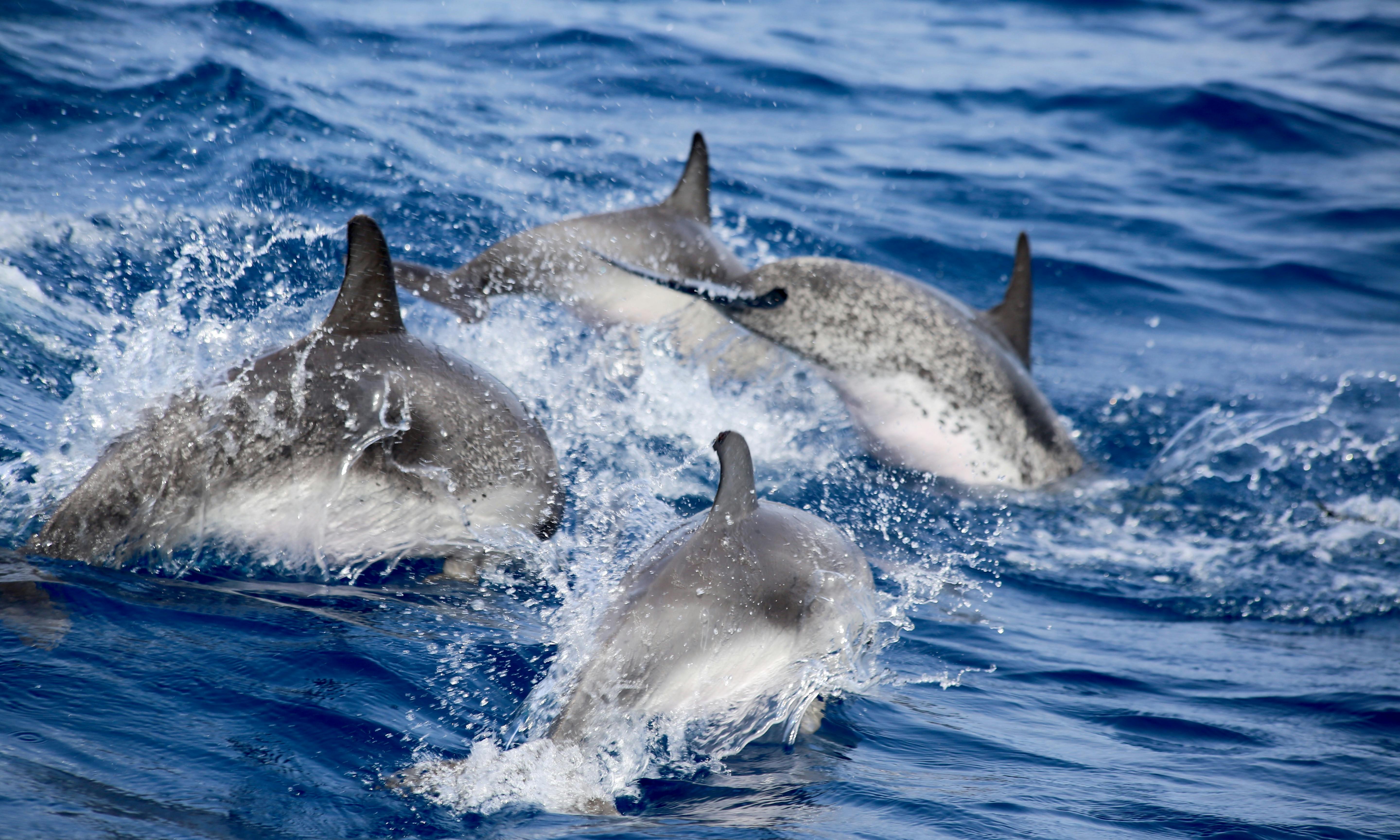 Whale & Dolphin Watching Corralejo
Walking Cofete
After your hotel collection from Jandia and Costa Calma, transfer by minibus to Gran Valle. The walk revolves around the mountain past "Pico de Zara" and the area down to Cofete beach. Explore the wild and rugged western coast of Fuerteventura. Follow an experienced guide down gravel tracks and head deep into a barren landscape heading for the isolated settlement of Cofete. Enjoy fantastic views over the Cofete coastline and then explore the almost 35km of sandy beaches. The trail passes through cacti fields and along endless beaches towards the mysterious Villa Winter. Your guide will give you the lowdown on the flora and fauna of this remote corner of the island and there'll also be a picnic included.
Lobos Island Mini Cruise
Car-free Lobos Island is just a short ferry trip away from Fuerteventura. The isle is all raw nature with hardly any signs of human activity, so it makes for a fascinating backdrop to your cruise. You can head over on the ferry and size the island up from the sea as you have time to view the lagoons and have a quick snorkel, in its tropical waters.
What's more, you can check out the marine fauna along the way. Whether you're a nature lover or a sun seeker, you're bound to fall in love with Lobos Island. Its pristine beaches and the inviting waters brimming with marine life are straight out of Robinson Crusoe.
There are a few fishermen's huts by the harbour and beyond lies a scarred volcanic landscape. A lighthouse on the north coast looks across to the neighbouring island of Lanzarote. One drink is included on the ferry. The boat returns at 14:00.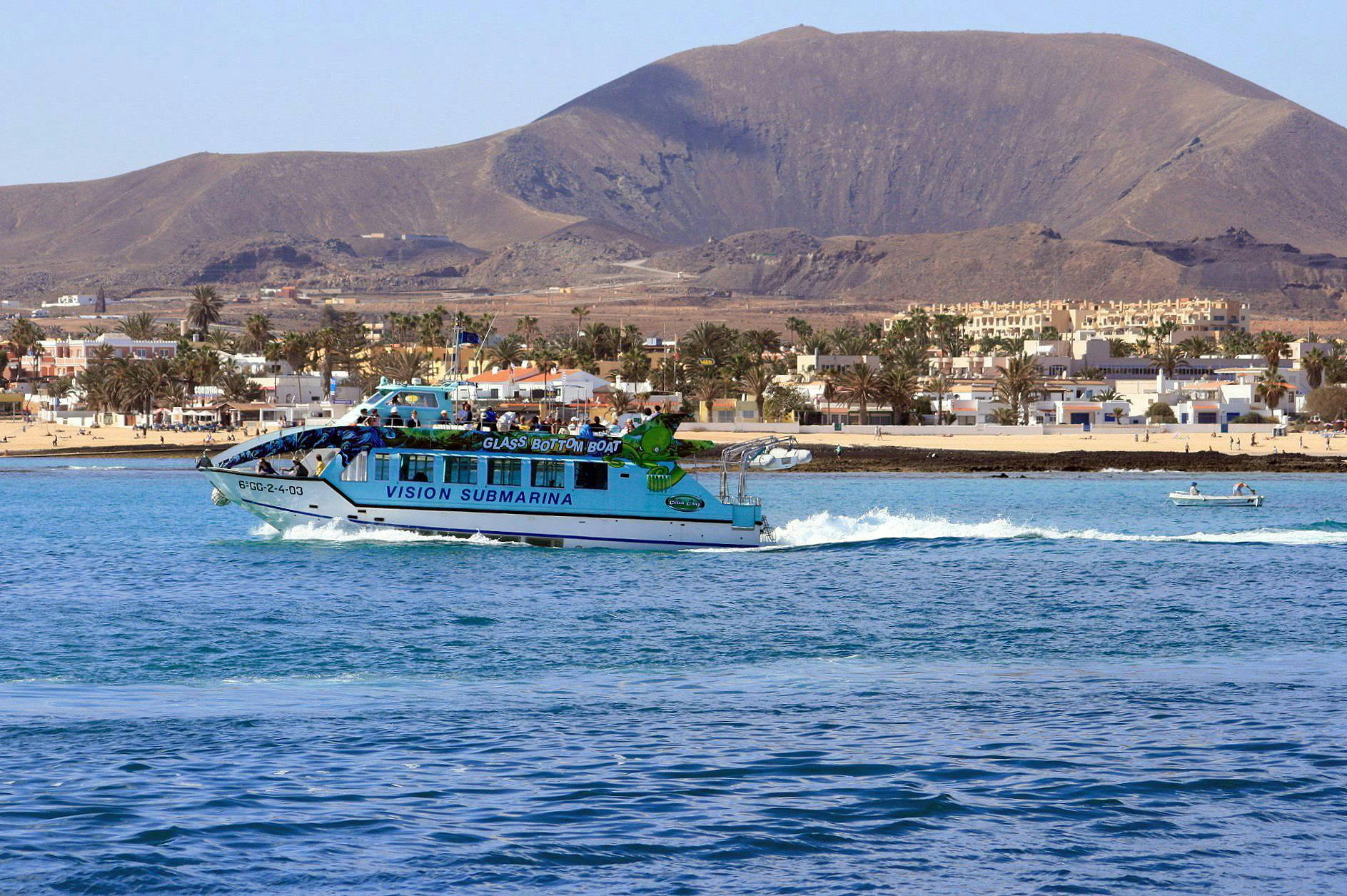 Oby Cat Experience from Costa Caleta
With its craggy inlets hugging the aquamarine Atlantic, the east coast of Fuerteventura is tailor-made for viewing from the comfort of a large catamaran. As you recline in the salty sunshine, volcanic craters rise up dramatically in the island's interior. This half-day cruise is available either in the morning or afternoon.
Setting off from the swanky surrounds of the brand-new marina of Caleta de Fuste, you'll cruise southwards on the Oby – with the expert and friendly crew tending to your every need. Your destination is Pozo Negro bay, where sugarcane fishermen's huts stand in contrast to the harsh volcanic backdrop.
You'll drop anchor in the calm and sheltered waters of the bay. Relax on the deck or explore the underwater depths with the snorkeling gear provided. You'll even get to blast through waves on Oby's jet-ski. An on-board paella lunch and free-flowing beer and soft drinks make for a very pleasant four hours at sea.
Oby Cat Experience from Costa Caleta
Acua water park – ticket only
Family fun day out at Acua water park
The only waterpark in Fuerteventura
Slides and pools for kids and adults
Entrance ticket with or without a transfer is available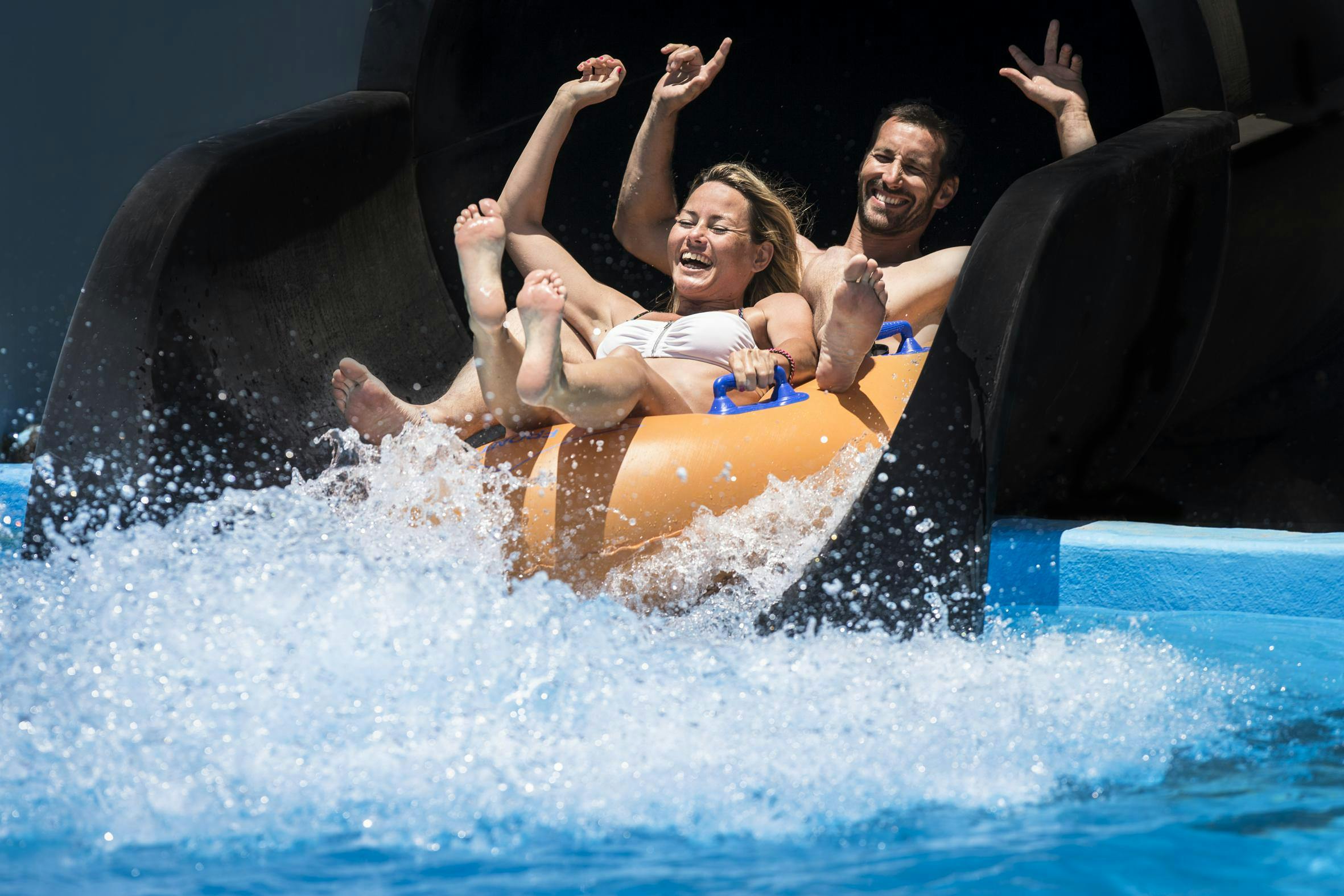 Ferries to Gran Canaria & Lanzarote – Ticket only
There's a fast and convenient way to hop over to Lanzarote or Gran Canaria for the day. The journey to Lanzarote takes approximately 30 minutes and the trip to Gran Canaria takes about 2 hours. A great chance to explore another Canary Island under your own steam.
To go to Playa Blanca in Lanzarote you sail from Corralejo in the north of Fuerteventura while to go Las Palmas in Gran Canaria, you sail from Morro Jable in the south. The ferries are modern and offer a fast service between the islands. They also feature a sun deck so you can take in the uninterrupted views as you hop across the ocean. There's also a snack bar on board in case you feel peckish.
And once you land, it's all yours to discover at your own pace. With a good selection of crossings every day, you'll be able to comfortably spend the day on a different Canary island.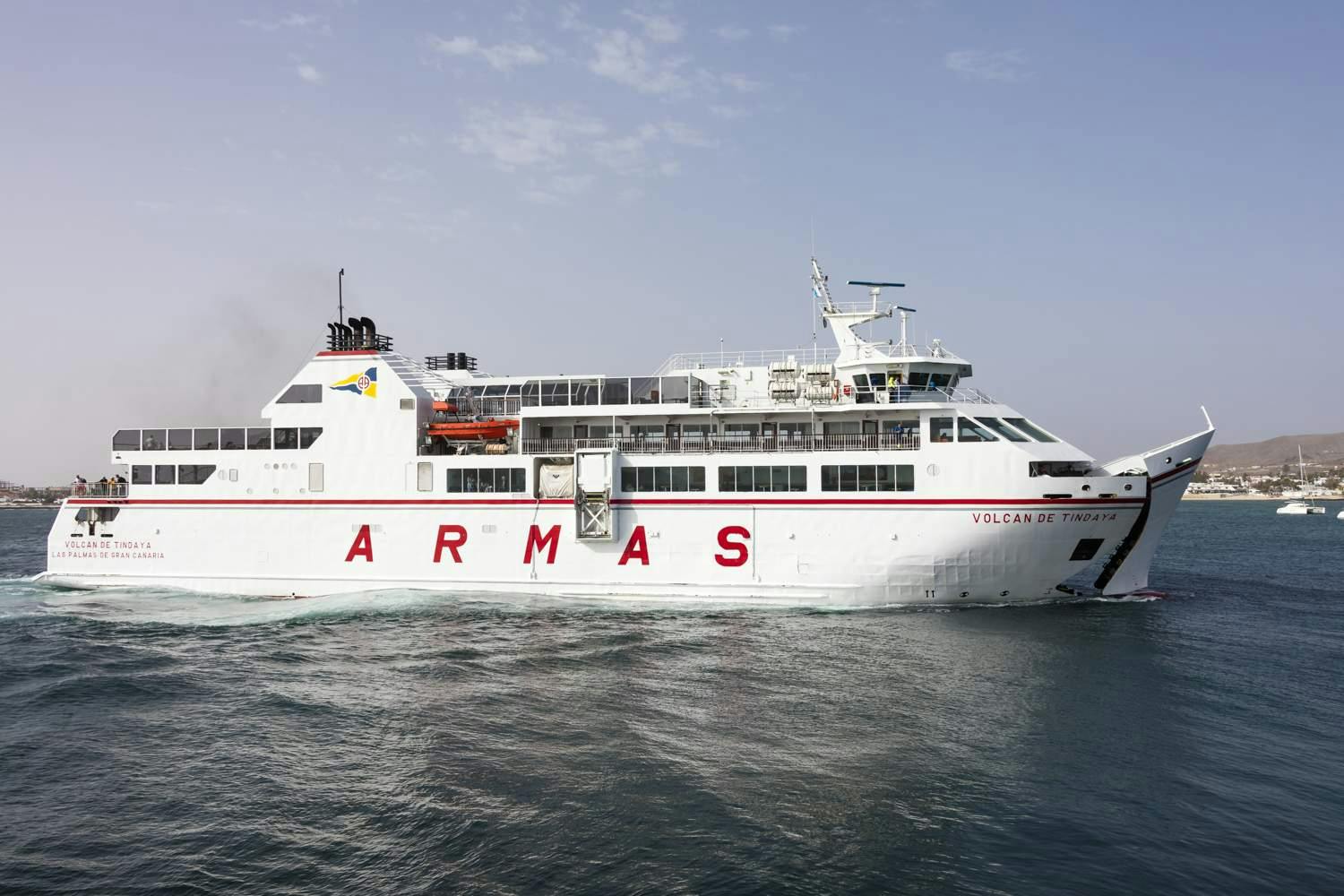 Ferries to Gran Canaria & Lanzarote – Ticket only
Diving – without transfer (Corralejo only)
Fuerteventura's crystal-clear waters are brimming with exotic fish. And this scuba diving experience is the ideal introduction to this fun activity. It gives you a taster of underwater life under the supervision of PADI and CMAS instructors.
Your dive team will first explain how the breathing equipment works and how to communicate underwater. After this, you'll practise in a shallow pool, with your instructor beside you. Then, it's time for your first proper sea dive. You'll be amazed at the whole new world around you. Think vibrant reefs and rock formations busy with bluefin damselfish, parrotfish, wrasse and other marine marvels. If you're lucky, you might even spy a ray or gentle angel shark, too.
You'll have 45 minutes to flipper around with your instructor pointing out everything. This is a brilliant opportunity if you've ever wanted to give scuba diving a go .
Diving – without transfer (Corralejo only)
Sunset Safari
This exclusive excursion takes you through scarred volcanic landscapes to remote beaches and pretty fishing villages – and is then rounded off by an epic sunset. You'll be whisked on dirt tracks past volcanoes as we zoom through lava fields and scorched scrublands. After traversing these arid badlands, we'll reach the coast. Here, the blue waters of the Atlantic meet the golden sand coastline – a contrast of colours that's one of Fuerteventura's hallmarks. In a fishing village, we'll drop into a typical Canarian bar and grab a bite of some tasty local nibbles. The tour ends on a high when we head over to a local landmark such as a lighthouse or castle to watch the sun sink into the ocean while sipping on a flute of cava. A great chance to experience the vivid colours of Fuerteventura.
Cofete 4×4 Safari Tour
The plunging volcanic landscape of Fuerteventura's mountainous interior is scaled from the seemingly endless coastline of the vast Atlantic Ocean. The best way to navigate this rugged and somewhat unforgiving terrain is in an off-road 4×4, for a full day.
Your driver will first head into Fuerteventura's central mountains, where cloud-wreathed slopes plunge down to endless, deserted beaches. Heading off road onto hairpin tracks, you'll bump around the lunar-like landscapes of the Roque de Moro, one of the island's highest volcanic peaks. Here, you'll get breathtaking views over the buffeted west coast before dropping down to Cofete.
This mostly abandoned village is home to the mysterious Winter Villa – rumoured to have been a Nazi hideout after World War II. Next, it's off to Punta de Jandia at Fuerteventura's southern tip. After lunch at a typical Canarian restaurant, you'll wind your way back, enjoying more epic views as you go. A thrilling drive and glimpse into parts of the island most never see.
Submarine Safari
Cross over to the neighbouring island of Lanzarote and emulate Captain Nemo as we dive deep down to the bottom of the Atlantic Ocean. The waters around Lanzarote are teeming with marine life and this 40-minute-long submarine trip is an unforgettable experience. You'll see ghostly shipwrecks on the seabed and watch as shoals of colourful fish flit past your viewing window.
We'll cross the straits across to Lanzarote aboard the Princesa Ico and then head for the port of Puerto Calero. Once there you'll get a comprehensive explanation about the dive and the submarine and what you can expect to see once underwater. After boarding you'll be allocated your personal seat, right in front of one of the large viewing ports, allowing you unrestricted vision of the underwater world including giant rays, barracuda, parrot fish and tuna.
We'll dive to a depth of 30 metres for around 40 minutes, after which we'll return to Playa Blanca where you'll have some free time before returning to the shores of Fuerteventura.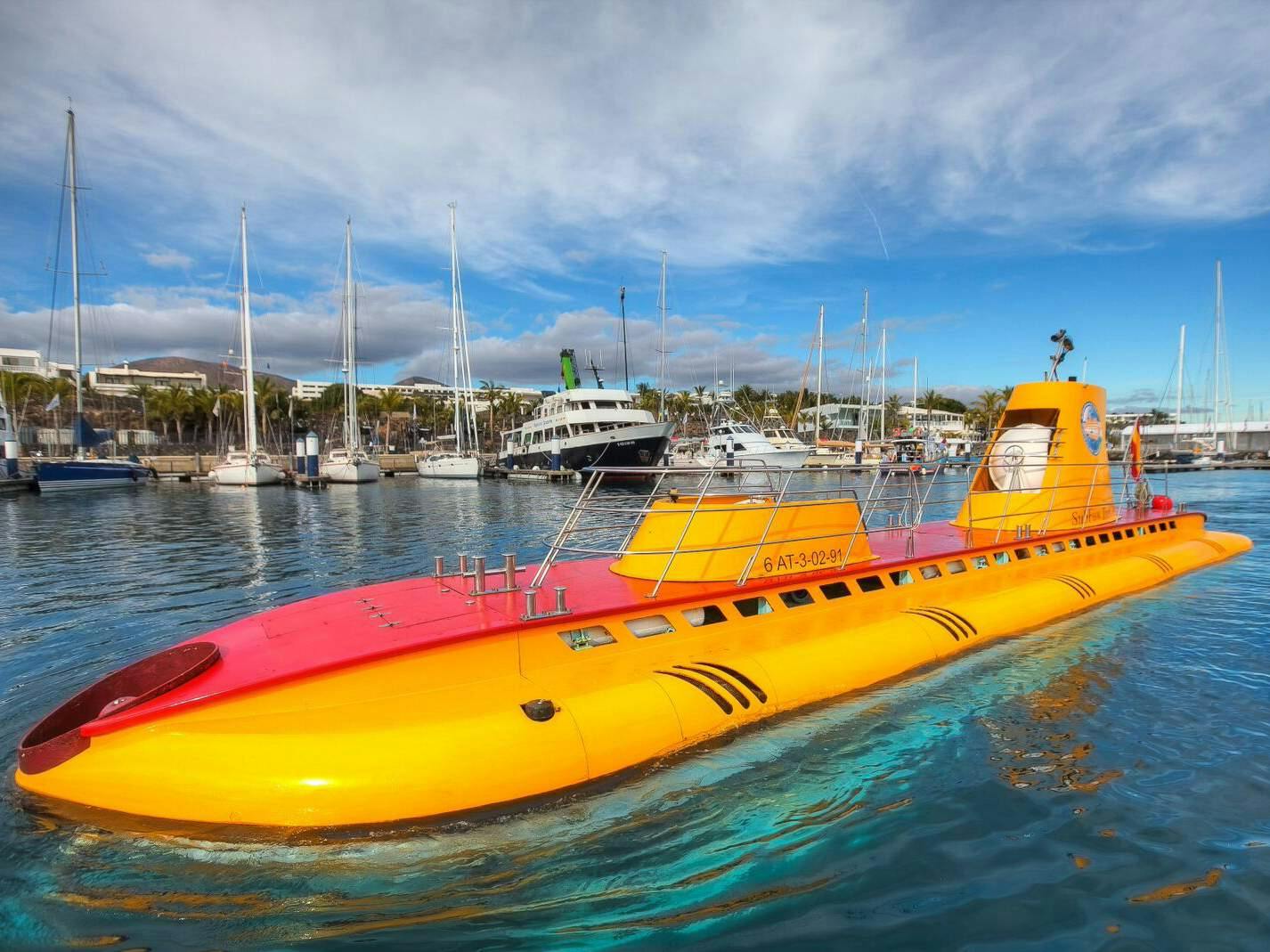 Fuerteventura Villages and Food Tour
Fuerteventura is that rare gem – there's plenty to do and see but in laidback and uncrowded surrounds. This daytrip to the centre and of the island will explore historic towns such as Pajara and Betancuria, and take in attractions such as an aloe vera plantation and farms.
Setting off in a comfortable eight-seater minibus, your first stop will be the aloe vera plantation. Next up is the polka-dotted Moorish-influenced lighthouse overlooking Las Playitas beach. And at a farm, you'll enjoy an olive oil tasting.
Then, in Pajara, you'll check out the Aztec-inspired friezes on the façade of Our Lady's church. Later, a scenic drive through the mountains will take you to the whitewashed colonial town of Betancuria. See St Mary's church, whose simple exterior belies its richly decorated interior. There'll be a cheese-tasting session at a nearby goat farm, before you round off the day with a traditional Canarian late lunch.
Fuerteventura Villages and Food Tour
Goleta Paradise
A luxury cruise along the dramatic and desolate cliff-strewn coastline of Fuerteventura's southernmost peninsula is a memory-maker in itself. Experiencing it from the deck of a very special boat – a tall-sailed traditional Turkish gulet, named Paradise, makes it all the more so.
The fun starts as you board Paradise in the charming port of Morro Jable. She's tall-sailed and boasts all-wood panelled staterooms, to give you that real VIP feeling. Setting out from port, you'll glide toward the southern peninsula of Punta de Jandia, passing desolate cliffs, secret coves and empty beaches en route.
Sink into the comfy deck mattresses, polish your tan and relax over drinks served by the crew. At Punta de Jandia, you'll see the rugged coves and the lighthouse. And there's the opportunity to swim or snorkel along the way. After a lunch on deck of smoked salmon, grilled prawns and steak, you'll then cruise past the lighthouse for some photo opportunities before a relaxing jaunt back to port.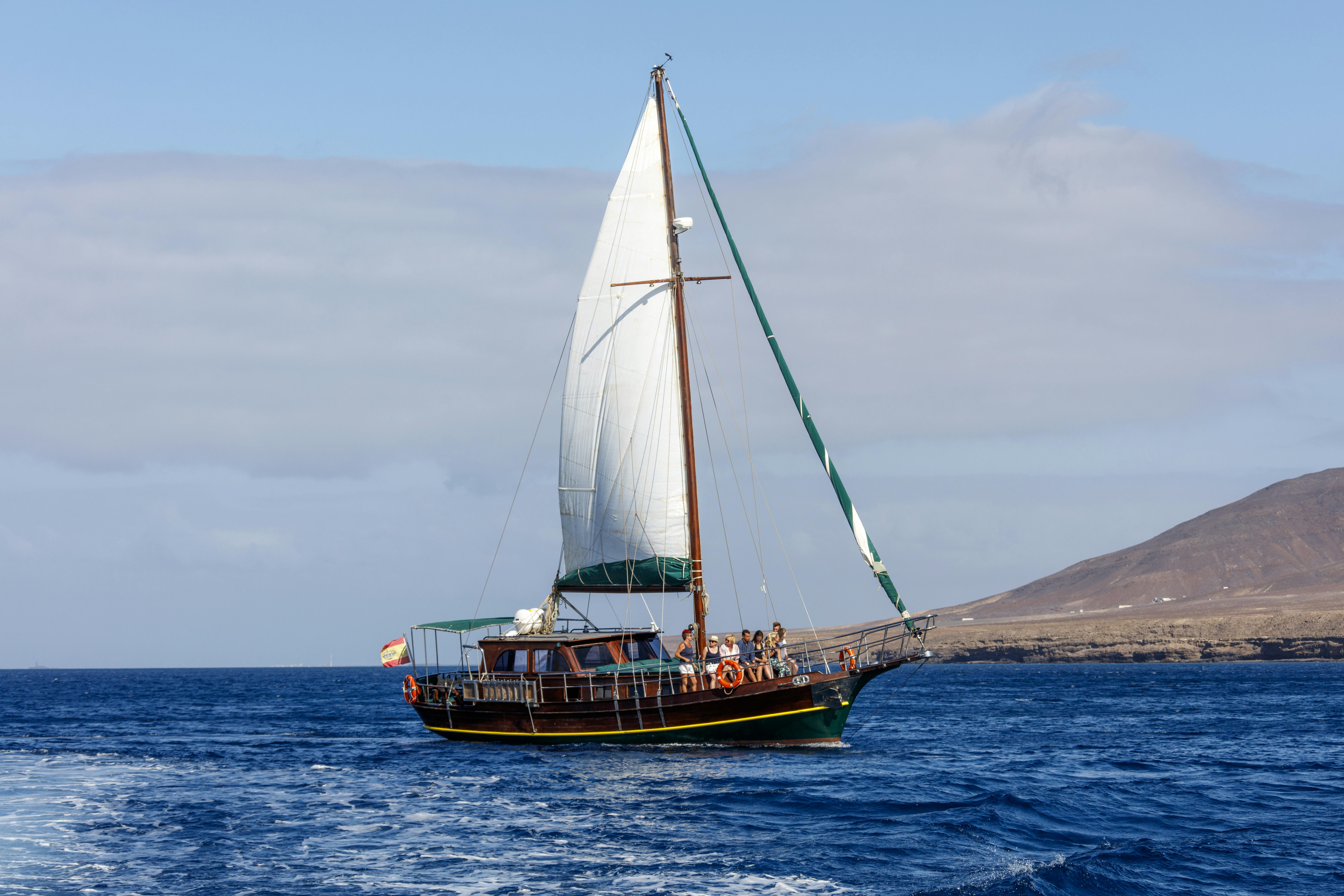 Lanzarote Experience
Lanzarote and Fuerteventura may only be 25 minutes apart but scenery wise, they're light years apart. Feel the heat beneath your feet on Fire Mountain – witness brushwood burst into flames and watch steaming geysers shooting from the ground as you journey through Lanzarote on this full day excursion.
Timanfaya National Park is a natural, outdoor museum where you can see first-hand how catastrophic volcanoes can be. Then follow the Lunar Route through lava fields and volcanic craters. There's also a pit stop in La Geria, where you visit a typical wine cellar and sample some of the wine.
You'll also head through the Haria valley stopping for lunch along the way to the Jameos del Agua, designed by legendary local artist-architect, Cesar Manrique. Descend into this volcanic cavern and you're greeted with rock gardens, a restaurant and a glassy lake. From there we go back to Playa Blanca to take the ferry to Fuerteventura.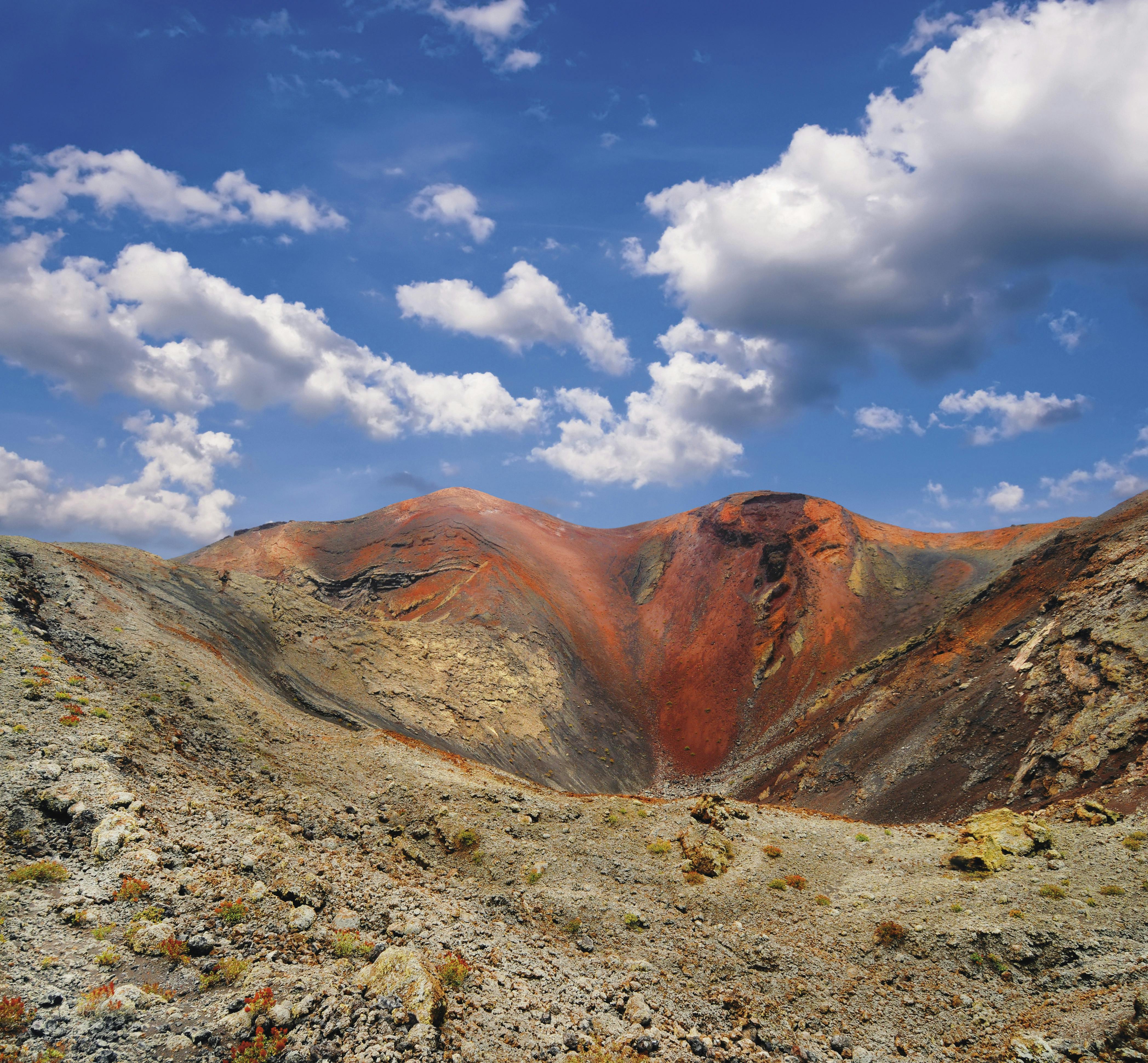 Fuerteventura VIP Catamaran Cruise
This Magic Deluxe cruise offers you the best of both worlds. You'll get to sail in a brand-new luxurious lagoon-style catamaran – unique to Fuerteventura – and enjoy amazing views of volcanic coastline, beautiful beaches and, with a bit of luck, catch sight of dolphins and whales. A tasty lunch on board is also on the menu.
Riding the ocean waves, surrounded by the azure waters of the north Atlantic – this is the life. You'll want to dive in the moment your skipper drops anchor in Jandia Bay. After some fun and frolics in the sea, it's time to dip into a surf and turf lunch featuring a seasonal salads, smoked salmon, grilled prawns and grilled steak – washed down with wine and other drinks.
And with a maximum of just 12 guests on board, this 15-metre catamaran is the ideal boat to spend a day of relaxation and offshore exploration.
Fuerteventura VIP Catamaran Cruise
Off-road Cotillo
Remote beaches, volcanic craters and a healthy dose of amazing views are the key ingredients of this 4×4 island tour. You'll explore northern Fuerteventura high and low, travelling to inspiring locations such as the Bayuyo volcano, Majanicho and El Cotillo. It's an action-packed day of off-road sightseeing.
The adventure kicks off as you head south from Corralejo, along the desert tracks towards Lajares. Soak up the spectacular vistas of the beaches and the turquoise sea from this elevated spot – even taking in views of neighbouring Lanzarote to the north, across the Bocayna Strait.
More memorable views are in store as we zoom through volcanic badlands towards the remote coastal hamlet of Majanicho. From here, we press on to Cotillo – famed for its triple lighthouse – and where you'll have some free time to chill out on the beach.
Deep sea fishing
If you like a spot of angling, this deep sea fishing trip in the Atlantic is right up your street. You'll sail out into the strip of ocean separating Fuerteventura from Morocco in search of fish – and fun. This half-day jaunt mixes action with passion to create an exciting experience.
In the waters between the Canaries and Africa, the catch of the day could include a marlin or a swordfish. You'll have to pull out all the stops to land one of these big boys but the waters are teeming with other fish, too.
Dangle your bait over the side, and you could hook a mahi-mahi, a wahoo or an amberjack. And if you don't have any luck, simply sit back and soak up the sun.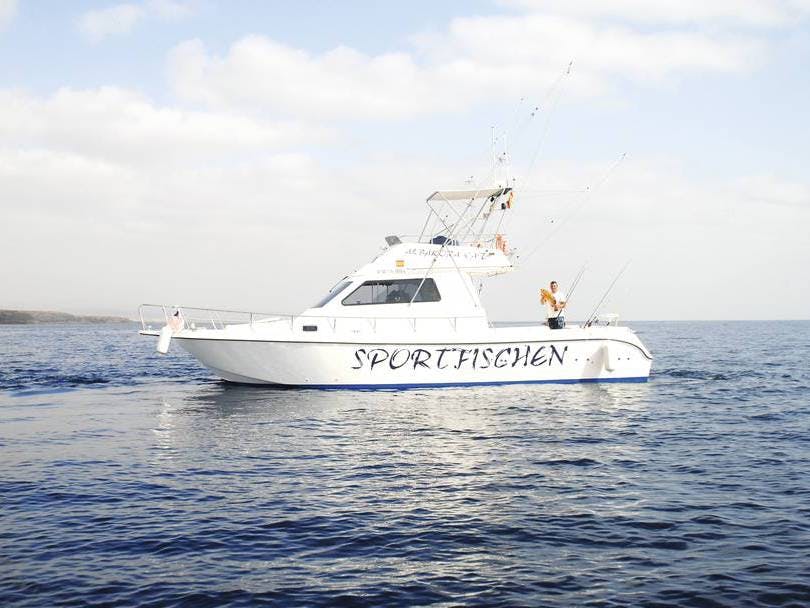 Watersports
Fuerteventura's windy and sunny conditions have made it a mecca for water sport enthusiasts from all over the world. Take advantage of the island's ideal climate to either try a water sport out for the first time or get in some more practice with courses taught by professionals. Courses can be anything from three hours to three days.
After being picked up from your hotel, you'll head to a spot where conditions are the best for surfing, wind and kite surfing, boogie boarding or stand-up-paddle – the choice is yours. Then just slip into your wetsuit and hit the waves. Whether you're a beginner or advanced, any level is welcome, and your friendly qualified teachers will show you all the tricks you need to know to improve your skills or learn for the very first time.
You'll have three hours in which to perfect your moves, all while enjoying Fuerteventura's coastal scenery in the background. What's more, as you're taken to the best spot according to the weather on the day, you'll have ideal conditions to learn a new water sport.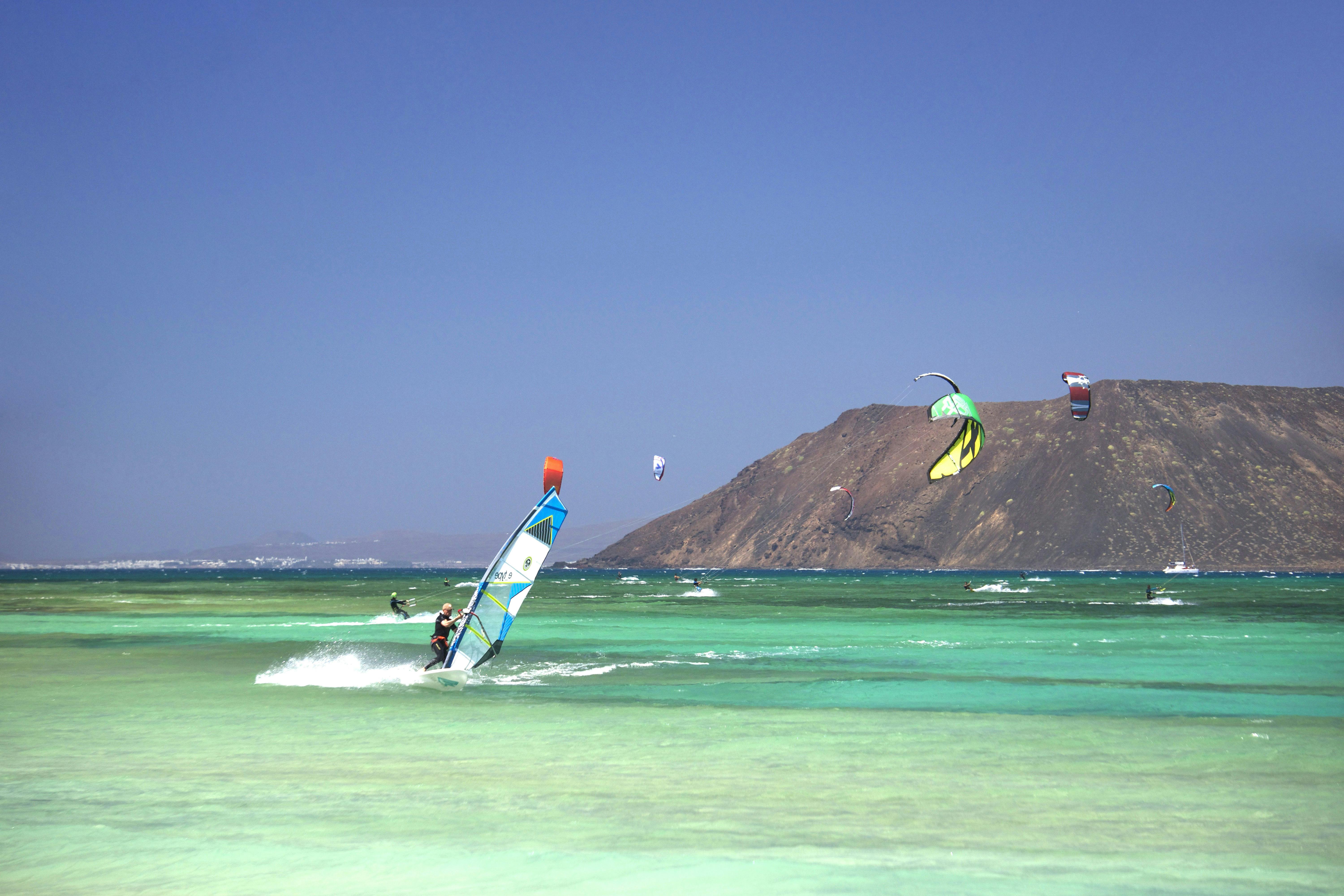 Oby catamaran
Lying just off the northern tip of Fuerteventura is Isla de Lobos – the 'Island of Wolves'. It makes the perfect foil for a day at sea in a luxury catamaran. For four blissful hours, we'll sail off this arid volcanic isle while enjoying the pleasures of the sea. Dive in for a swim or snorkel, or try your hand at kayaking. This is pure, unadulterated fun Fuerteventura style.
Sailing from Corralejo, the Oby catamaran has room for just 12 guests and you'll receive full VIP service on board. Lie back and soak up those Canarian sunrays or cool down in the azure Atlantic waters. We'll drop anchor off Lobos and that's when the fun – or relaxation – begins in earnest.
You can hop into a kayak with some friends and glide on the calm waters, go snorkelling among the colourful underwater life, enjoy a dip in the sea or simply lie back and soak up the sun. Food and drinks will be served on board.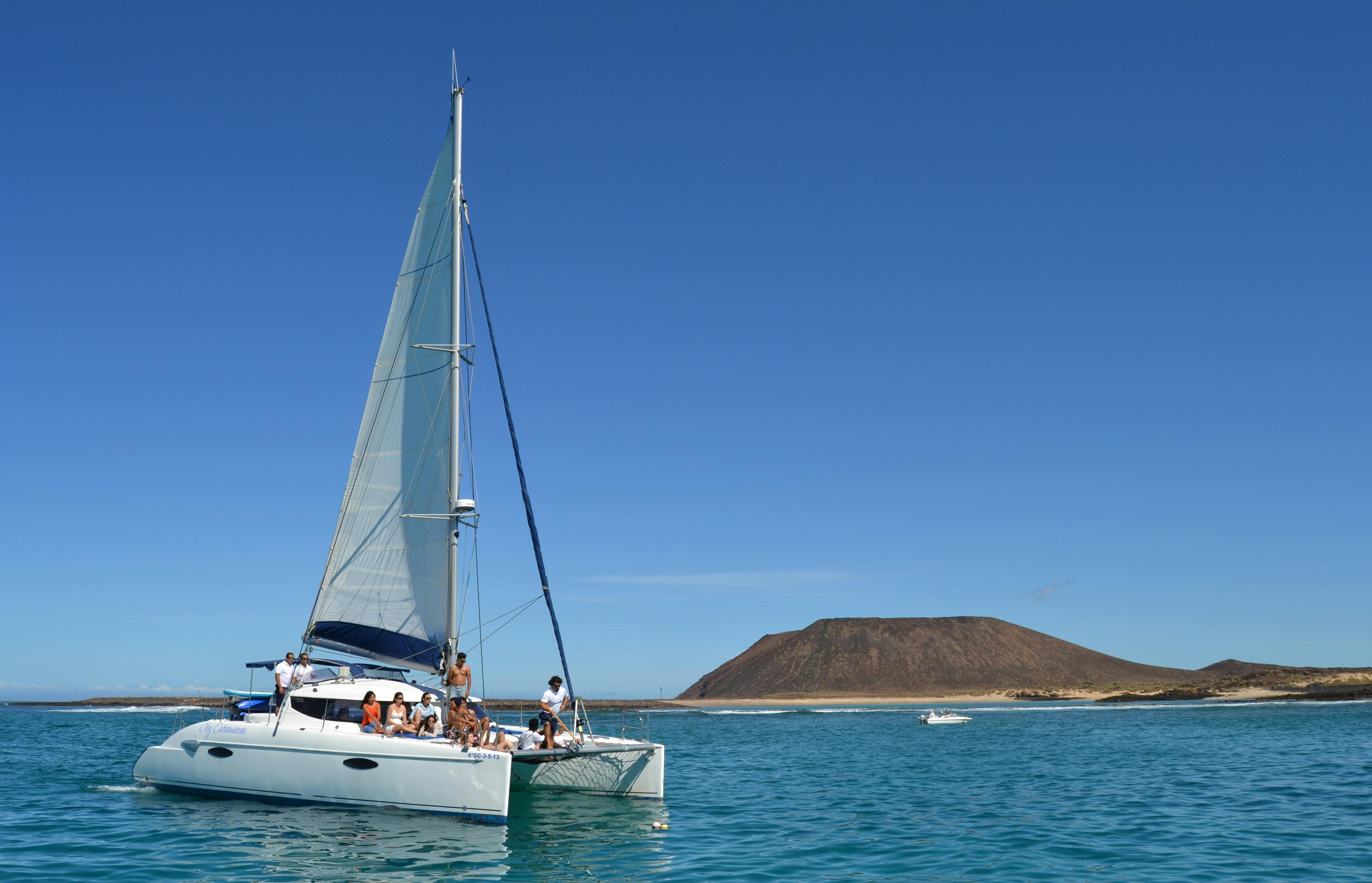 Fuerteventura Magic Catamaran Cruise
Sailing along beautiful coastline and savouring a traditional Canarian lunch is the formula that makes this catamaran cruise so magical. To top it all off, there are also stops for swimming and snorkelling. And with a bit of luck, you might spot dolphins and pilot whales. This is what being on holidays is all about.
Things get going as you weigh anchor after being welcomed by the friendly crew. Heading out into the Atlantic under full sail, you'll glide southwards, keeping a keen eye out for the pods of dolphins and pilot whales that are plentiful in the warm waters off Fuerteventura.
Your skipper will then drop anchor at an isolated spot near the beaches of Jandia. There will be games organised on board, or take a dip or a snorkel in the azure waters. After the activities, you'll be served a typical Canarian meal of freshly-grilled chicken, potatoes with mojo sauce and seasonal salads, all washed down with ice-cool drinks. This is what holidays are all about.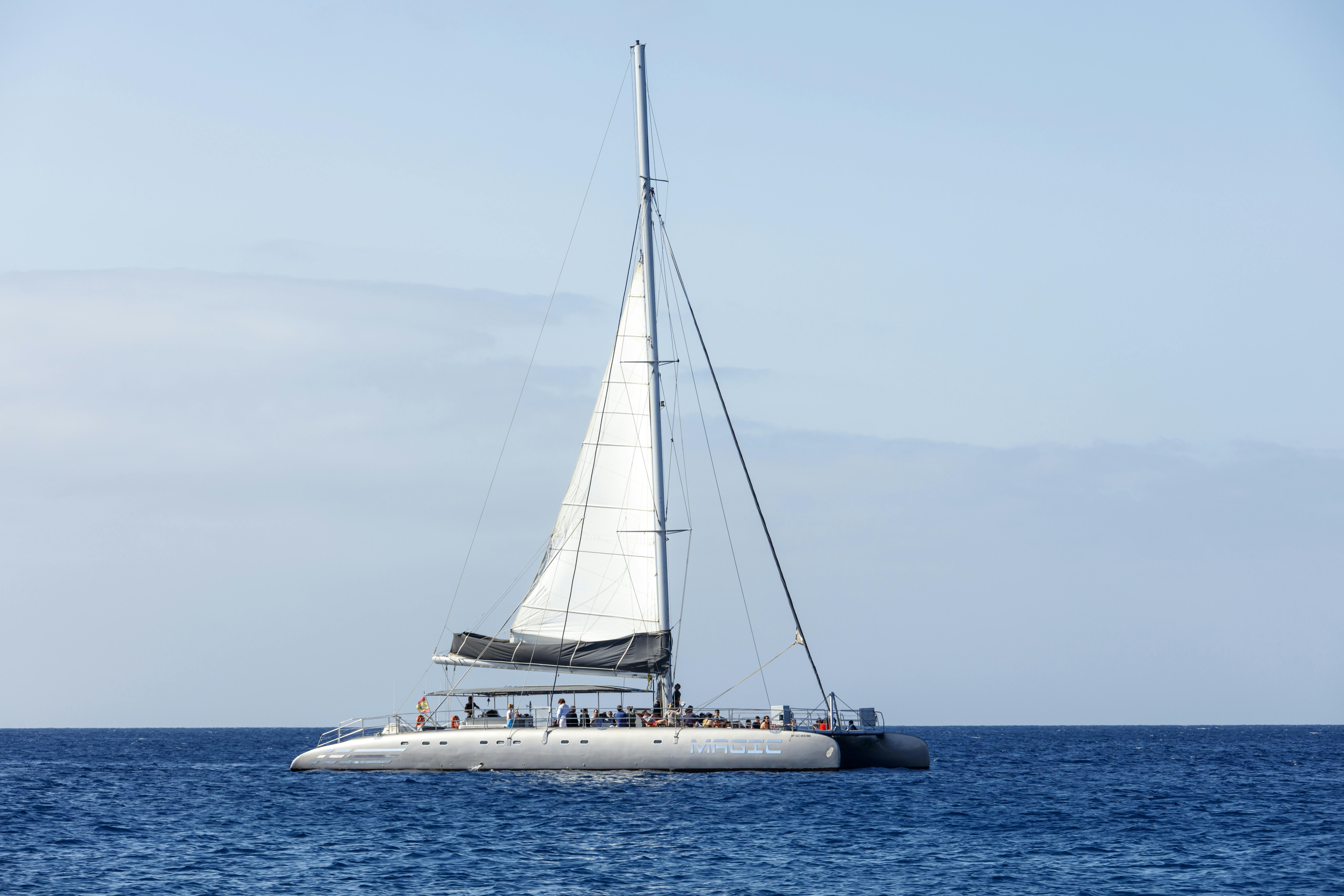 Fuerteventura Magic Catamaran Cruise
Shop & Sail
A day of sun, sea and shopping awaits on this full day cruise to Lanzarote. You'll set off from Fuerteventura to the neighbouring island for a spot of souvenir shopping in Marina Rubicon then the afternoon is for sunbathing, snorkelling and eating paella in Papagayo Bay.
You'll leave all your worries behind as we set sail from Corralejo to Playa Blanca in Lanzarote, followed by a transfer to Marina Rubicon. Here you'll have plenty of free time to browse for souvenirs in the market and even have a drink in one the trendy bars. Then it's time for peace and tranquillity as you're whisked off on a luxury catamaran – with a fresh mojito in your hands – to the white sands of Papagayo Bay.
Swim in the azure water, snorkel, kayak to explore the bay or simply sit back with a drink from the open bar – the choice is yours. What's more, your crew will even prepare a fresh paella on board and we'll then sail back to Marina Rubicon in style.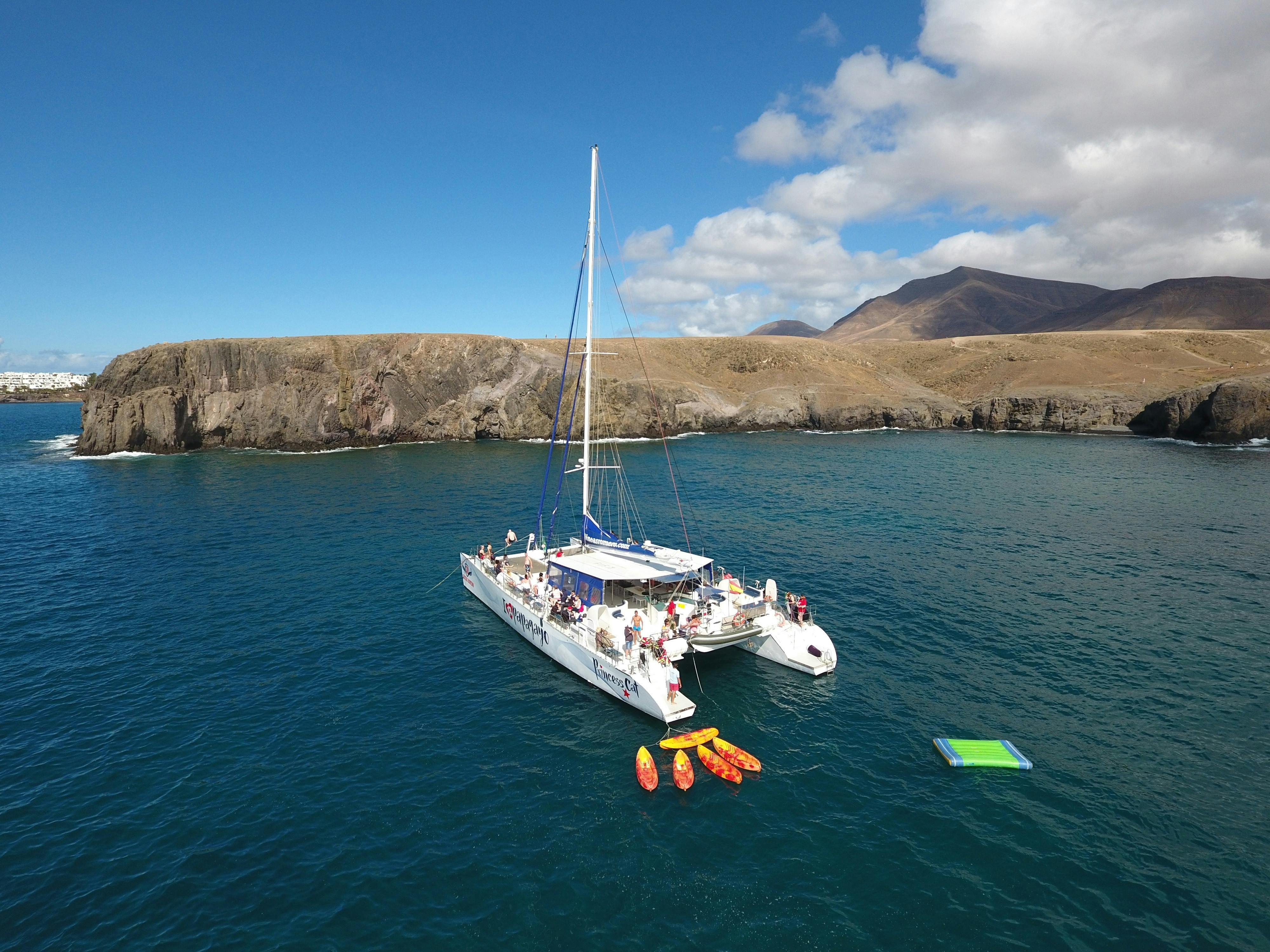 Diving – with transfer
Fuerteventura's crystal-clear waters are brimming with exotic fish. And this scuba diving experience is the ideal introduction to this fun activity. It gives you a taster of underwater life under the supervision of PADI and CMAS instructors.
Your dive team will first explain how the breathing equipment works and how to communicate underwater. After this, you'll practise in a shallow pool, with your instructor beside you. Then, it's time for your first proper sea dive. You'll be amazed at the whole new world around you. Think vibrant reefs and rock formations busy with bluefin damselfish, parrotfish, wrasse and other marine marvels. If you're lucky, you might even spy a ray or gentle angel shark, too.
You'll have 45 minutes to flipper around with your instructor pointing out everything. This is a brilliant opportunity if you've ever wanted to give scuba diving a go .
Pedra Sartaña Pirate Adventure
Nothing tickles the imagination of children like pirate ships. Take a trip with yours onboard the Pedra Sartaña for some swashbuckling maritime fun and adventure – and some well-earned down time for yourselves.
The Pedra Sartaña is a real Spanish Schooner with towering masts and ornate woodwork – which was in active shipping service until 1970. Now it has become the ultimate fantasy playground for your under-sized marauding shipmates. As she sets sail through the sparkling Atlantic Ocean, the kids get stuck into all sorts of fun stuff, including hoisting the sails, pirate games and treasure hunts – all led by our tough-taskmaster of a ship's captain.
When she drops anchor offshore, there'll be more maritime fun and games, and snorkelling and swimming in the warm clear water – but they won't be forced to walk the plank! These supervised activities and lunch on board will give the adults a little relaxation, and the delight of the little ones after a half-day of piratical fun should be one of the highlights of their holiday. All the more so if you end up seeing some dolphins off the bow.
Pedra Sartaña Pirate Adventure
Atlantic Adventure
Lanzarote is just a short sail away from Fuerteventura. Hit the seas in a glass-bottom catamaran to Playa Blanca, then cruise along the coast off Papagayo Beach. Top-notch snorkelling, kayaking and swimming await on this full day boat trip.
After being picked up from your hotel, you'll head down to the port where you'll be welcomed aboard the glass-bottom boat ready to sail over to Playa Blanca on the southern tip of Lanzarote. Here you'll have a short break to explore at your own pace, then take to the water again as we cruise along to the coastline before anchoring off Papagayo Beach.
Your captain will find the best spot to drop anchor for you to swim and snorkel in delightful turquoise waters or simply relax and top up your tan. You'll also have the option of a banana boat ride or kayaking for an extra fee. And to top it off, dig in to a delicious buffet spread along with sangria and beer served on deck before returning to Fuerteventura past amazing scenery.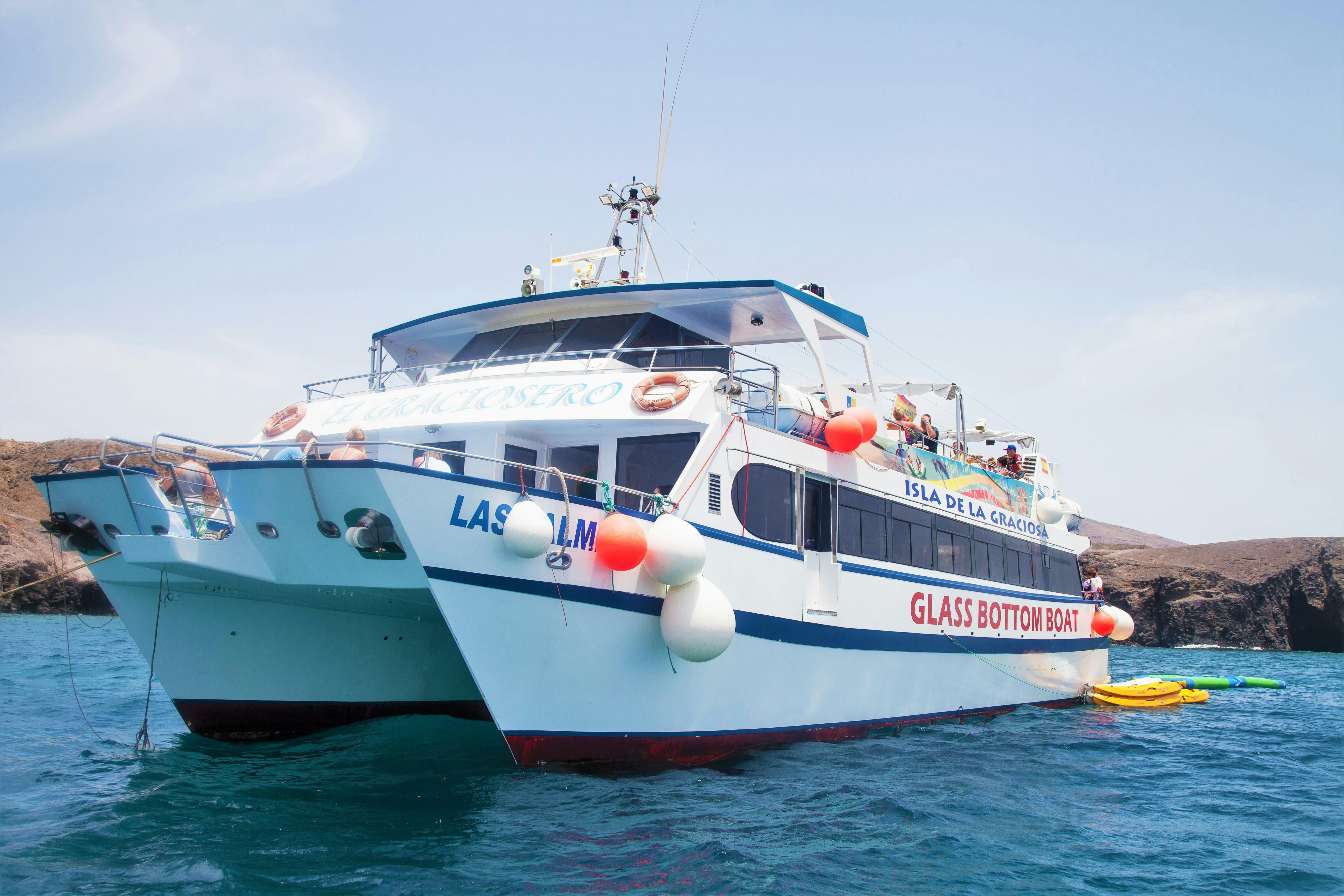 Gran Canaria island tour from Fuerteventura
One Canarian island sometimes isn't enough – which is why this Gran Canaria tour from Fuerteventura is ideal. You'll discover the big island to the west from head to toe, visit volcanic craters, remote hamlets, endless sand dunes and big cities. All in one amazing day.
After an early pick-up, we'll go to the port to board the two-hour ferry to Las Palmas. The action starts straight away as we head by minibus to the Bandama crater before continuing to Valle de San Roque. It is famed for its endemic palm trees. In the Valsequillo area, you'll be able to check out local products and taste a few delicacies. We'll climb towards Pico de las Nieves next, the island's highest point, en route to lunch at Llanos de la Pez.
In the afternoon, discover San Bartolome de Tirajana – a typical village surrounded by lush landscapes. Next up are the sand dunes of Maspalomas in the far south. They seem to go on forever. You'll have some free time in Las Palmas before catching the ferry back to Fuerteventura.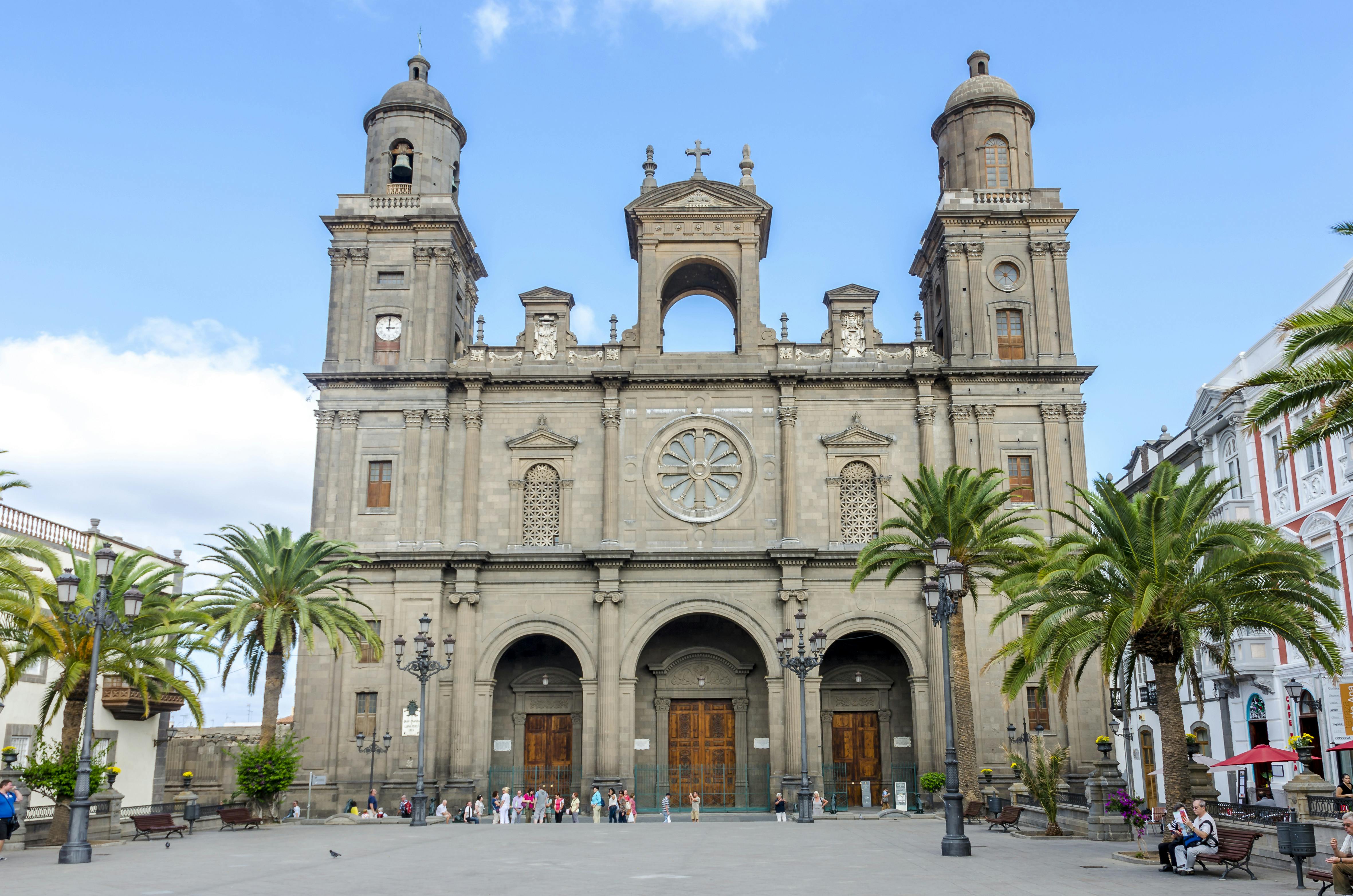 Gran Canaria island tour from Fuerteventura
Snorkelling
With bright white sand leading to turquoise waters, Fuerteventura is snorkelling heaven. You'll join an experienced guide on a snorkelling tour where you'll come face to face with shoals of grouper, octopus, rays and so much more.
If you've never tried snorkelling before, then this is an ideal chance to try it out. From your hotel, you'll head to the dive centre where you'll be greeted by friendly guides who'll firstly give a quick introduction on the essentials. After that, you'll have all your equipment provided and you'll head to the spot, where your underwater adventure begins.
Your guide will lead you to the best places to see the marine life and you'll soon get up close to parrotfish, damselfish, lizardfish and, if you're lucky, maybe even seahorses and angel sharks. And with crystal clear water, you won't miss out on a thing with all the colours of the ocean coming to life before your eyes.
Catlanza Cruise
There are cruises and then there's the Catlanza catamaran to Lanzarote's Papagayo coast. It's a class apart. Not only will you explore one of the most beautiful stretches of coastline in the Canaries but you'll also get to experience a jet-ski ride.
You'll sail from Corralejo harbour, with the desert island of Lobos to the starboard, and cross the Bocayna Strait that separates Lanzarote from Fuerteventura. The crew will really look after you, so relax with a drink in hand from the open bar and watch out for dolphins, whales and flying fish, which can be spotted in the strait.
Cruise off Papagayo Point, the southernmost tip of Lanzarote. Here, dark lava cliffs form a wall against the sea. But it's not all volcanic cliffs – there are some amazing golden beaches. Anchoring in a sheltered bay, now is the time to swim and snorkel in the crystal clear waters. You can also go around the bay on an exhilarating jet-ski ride with a driver, while the crew prepares lunch.
Jet-ski – departure from Jandia
Nothing gives you the freedom and thrills through the waves like a jet-ski. On this one-hour-long jet-ski experience, you'll explore the beautifully remote Jandia coastline in southern Fuerteventura – and cool down during a swimming break.
Arriving at base, you'll receive full instruction on how to pilot your powerful jet-ski. Charge out into the warm Atlantic, skipping along the tops of the waves. Head westwards, taking in the golden sands of the unspoilt Jandia peninsula.
Then, you'll have the opportunity to cool off with a short swimming break. Hop back onto your jet-ski, giving your partner the chance to drive and enjoy the views as you head full throttle back to Costa Calma. This thrilling, hour-long jet-ski ride is a great way to mix adrenaline-pumping action with sightseeing.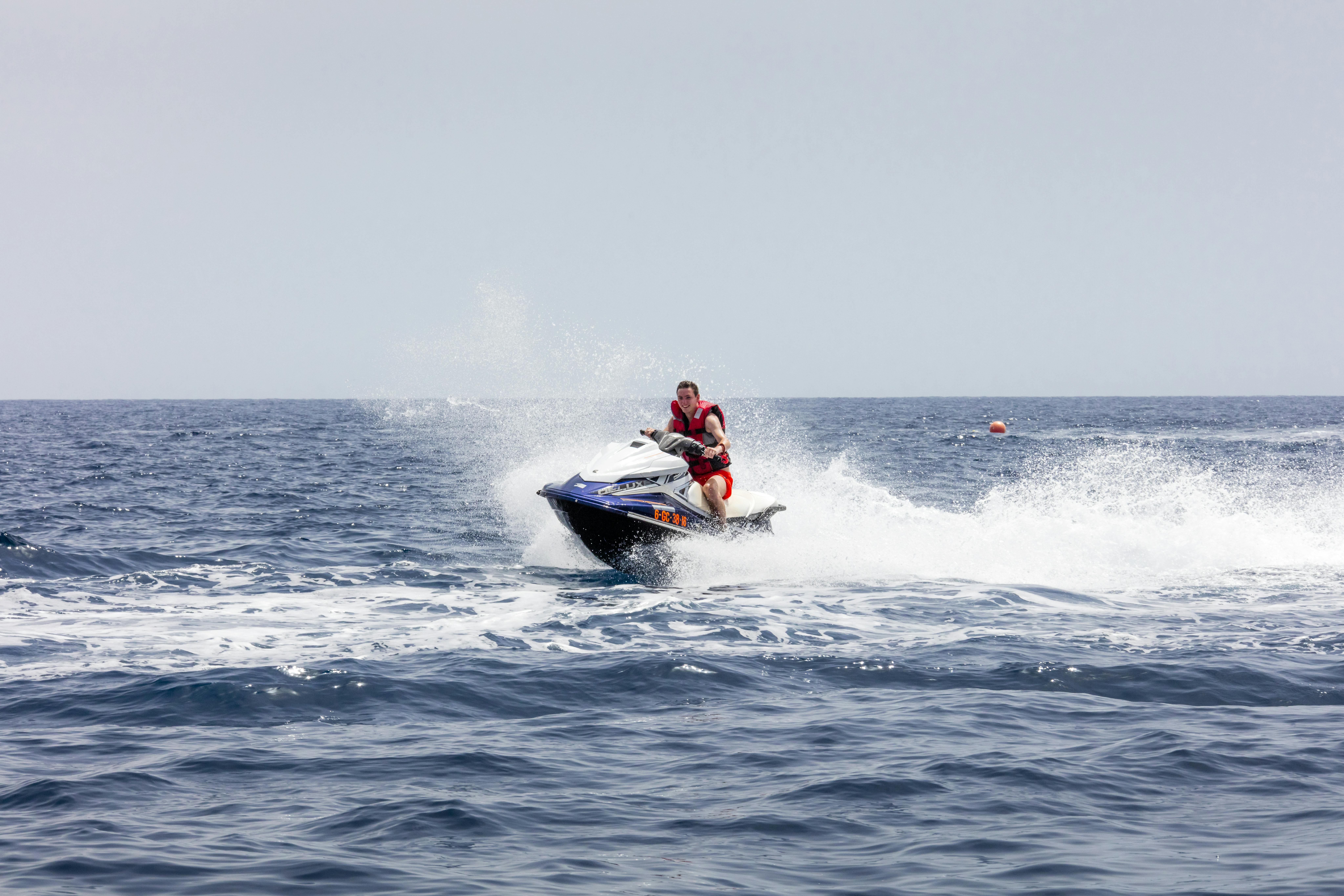 Jet-ski – departure from Jandia
Marina & Market
Sailing, shopping and swimming are what this full day trip from Fuerteventura to Lanzarote is all about. And to top it all off, you'll get to sail in a glass-bottomed catamaran, giving you a front row seat to the world under the waves. You'll also have free time to explore the luxury boutiques of Marina Rubicon and swim in the remote Papagayo Bay.
After pick-up at your hotel, we'll take you to Corralejo harbour to board a ferry for the leisurely crossing across the Bocayna Strait to Playa Blanca in Lanzarote. Here, you'll have free time to explore the upscale shops of the beautiful Marina Rubicon. There's also a lively market selling arts and crafts, and other local products.
Then we'll board a glass-bottomed catamaran and enjoy a light lunch as we sail to Papagayo Bay in the southernmost tip of Lanzarote. This sheltered cove boasts fine golden sand and is an ideal spot to chill and swim before sailing back to Fuerteventura on the ferry.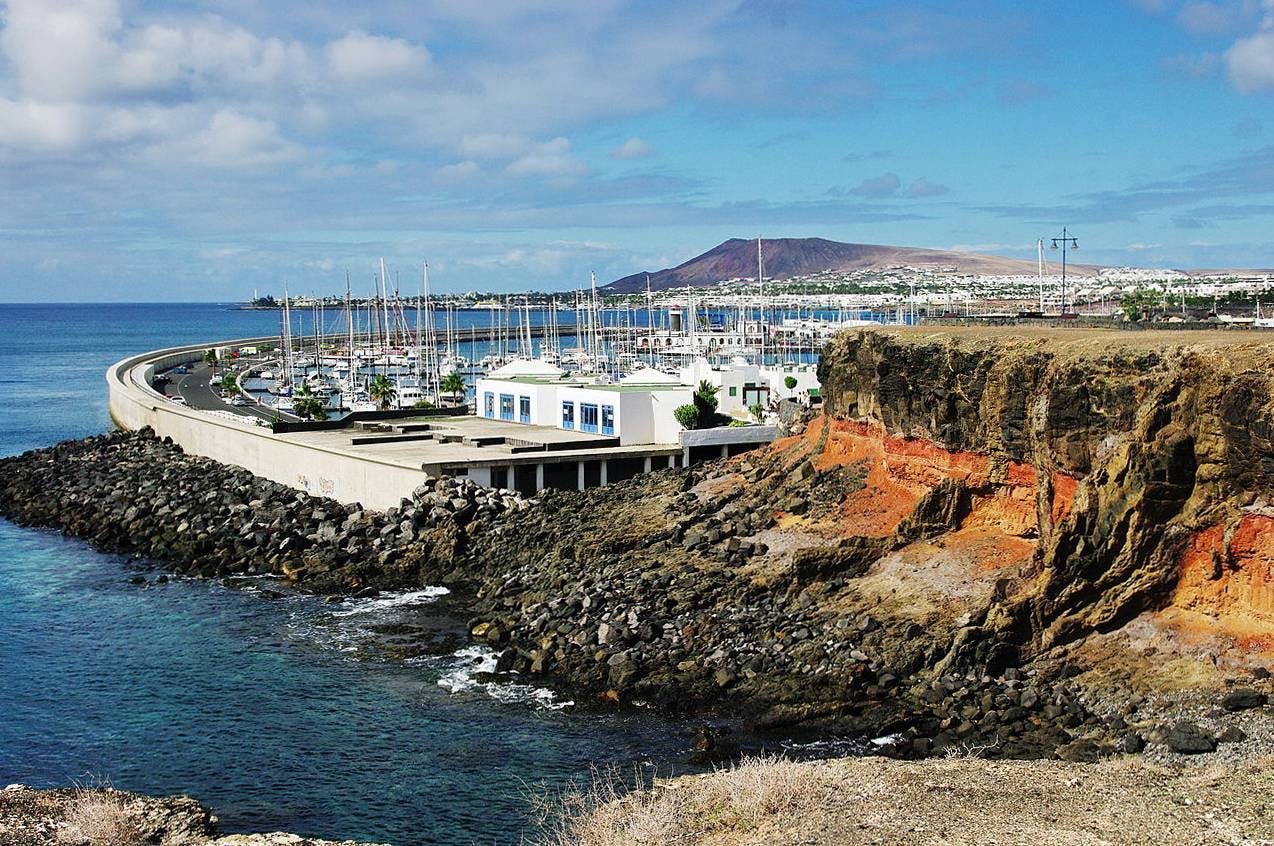 Freebird Catamaran
The volcanic outpost of Lobos Island juts out of the aquamarine Atlantic, just north of Corralejo. With just a few fishermen's shacks and no hotels or cars, it is a supremely relaxing spot – all the more so from the sun-drenched deck of a catamaran.
Lobos was named by 15th-century explorers after the colony of seals that used to inhabit its rocky shores. They may be long gone but the island is still famed for the sanctuary that it affords to the hardy flora and fauna on its lava-scarred landscapes and tropical shoreline.
You'll drop anchor at one of its deserted coves that are pocketed in its unspoilt coastline. This trip is all about relaxing – it's entirely up to you to decide what you want to do when the boat pulls up. Chill out on the comfy deck, hop into the crystal-clear waters to explore the marine life by snorkel or just kick back, and top up your tan. A lovely morning away from it all.
Private Tour
With the flexibility to go wherever your nose takes you, this private tour of Fuerteventura lets you explore as you wish. Choose between a full day or a half day version, and your own driver guide will take you wherever you want in Fuerteventura – the route and stops are all your own choice.
Whether you want to discover the dunes of Corralejo Natural Park, the beaches of Jandia or faraway villages, you get to plan your route and stops with your guide. The private minivan can seat up to eight passengers, so you'll be able to strike out with friends or family.
What's more, your driver doubles up as a guide, so they'll fill you in on history and anecdotes of the places you visit. You could also schedule in some beach stops, shopping time and even a lunch stop where your guide will recommend some places to go. You'll have complete freedom to sightsee your way.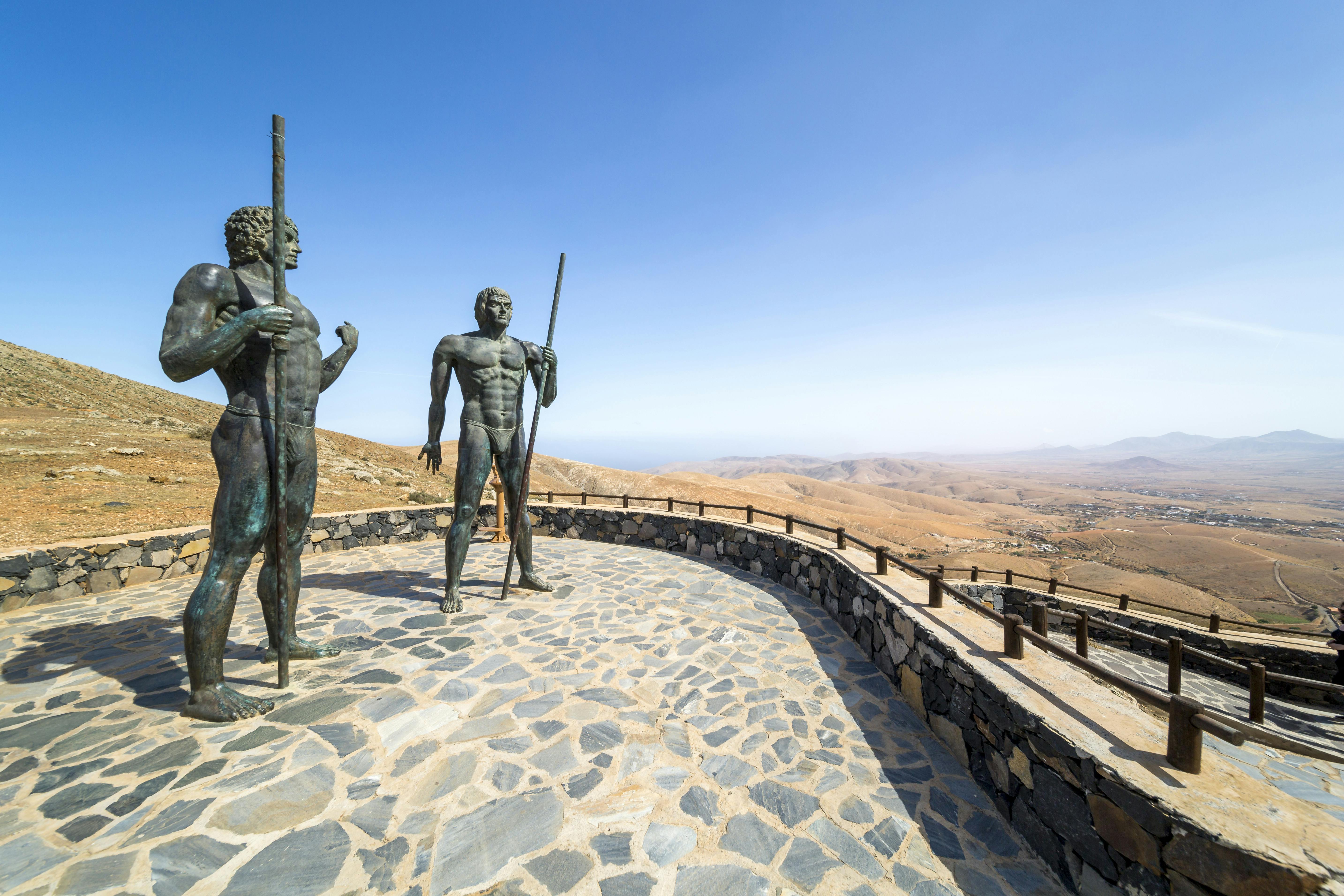 Libertad VIP boat trip
You get to call all the shots on this VIP excursion. With your own private boat and captain to take you wherever you want, you'll have three whole hours of sailing, sunbathing and swimming. Explore Fuerteventura's Jandia coastline while keeping your own itinerary, and hit the open bar while on board.
You'll be picked up from your hotel and taken to the boat, a Quicksilver 7'55 Weekend, where it's then up to you where you go. You can head out as far as you want, or skirt near the coast, choose where you anchor up for a swim and whether you go east or west – your wish is your captain's command.
To complete your VIP experience, there'll be an open bar with cava, beer and soft drinks as well as a few snacks, a sundeck, snorkelling equipment and a WC on board. Enjoy designing your own itinerary without the worry of navigating the way.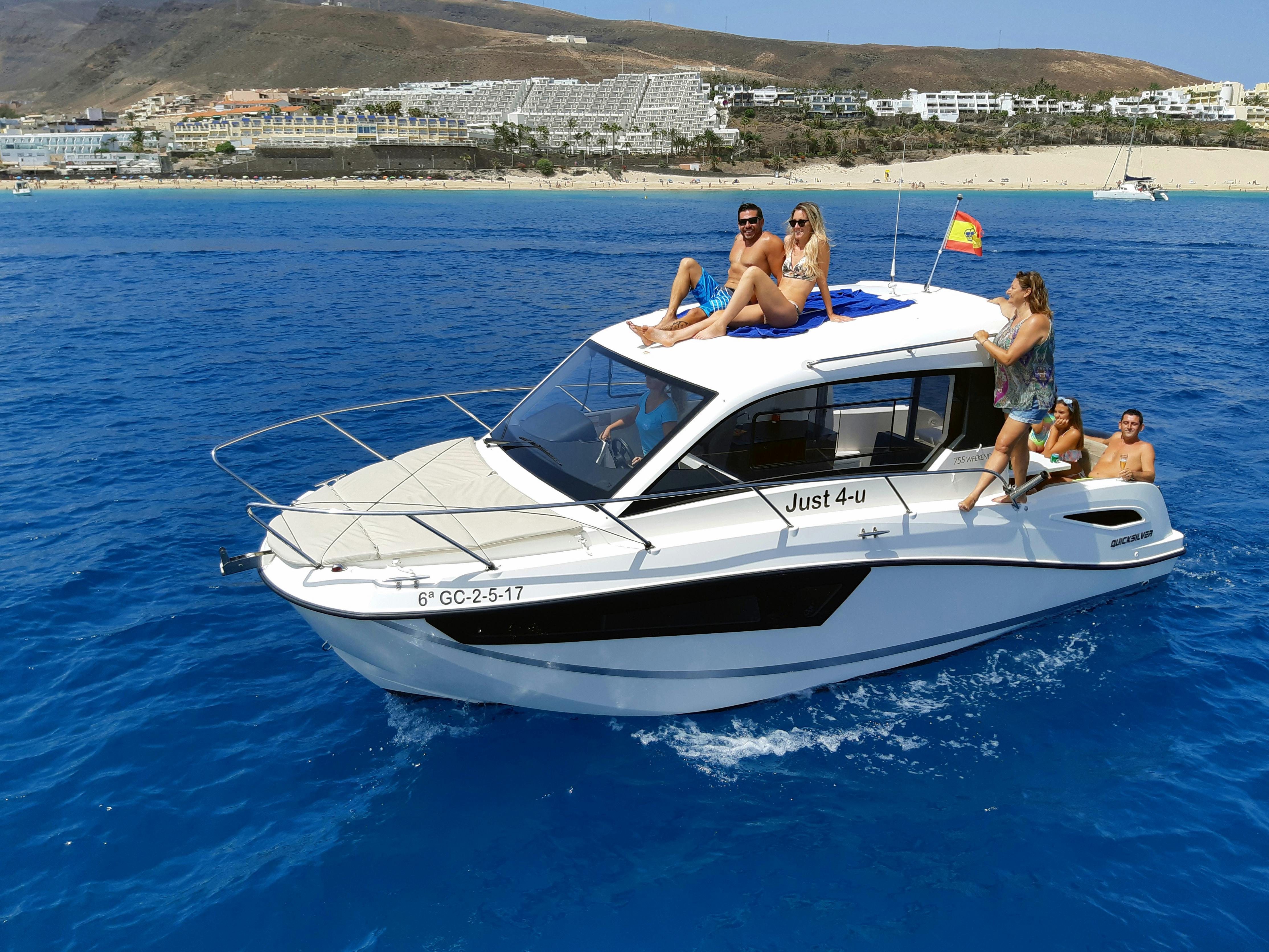 Walking Ajuy
All the things that make the western highlands of Fuerteventura so special come together in this hike. Starting out at Vega de Rio Palmas, your guide will lead you through one of the island's greener corners to the fishing village of Ajuy. The area's remoteness lends the excursion a Wild West feel.
You'll head by minibus to the hamlet of Vega de Rio Palmas. From here, you'll set out by foot, crisscrossing valleys towards the hermitage of La Peña. The ample vegetation is why locals know the area as the 'oasis of Fuerteventura'. Continue a trail along a gorge towards the coast and wave-washed Ajuy, the only village for miles around.
Ajuy is famed for its sea caves, which you'll be able to explore along with its black volcanic beaches. Rounding off the walk is a picnic lunch. Hiking time is about five hours. A great opportunity to discover the fauna and flora of Fuerteventura with an expert guide.
Lanzarote Volcano Tour
Were the sky not blue in Lanzarote, you'd think you were on the Moon or Mars. They're both a bit far away but Lanzarote is just 30 minutes by boat from Fuerteventura, which is a short time to travel for an otherworldly experience. You'll visit Timanfaya National Park, El Golfo and a winery – all in one day.
After an early pick-up, we'll go to the port to board the ferry to Playa Blanca. The action starts straight away with a visit to Timanfaya National Park, which is home to a third of the island's 100 volcanoes. Admire eerie landscapes of fantastic forms in shades maroon, red, grey and black. You'll also be treated to a few party tricks courtesy of the geothermic earth below you.
On the park's coastal edge, head to El Golfo to see the green lagoon at the back of a black beach and the nearby Hervideros cliffs. They were formed by molten lava pouring into the sea. There's a stop to learn all about the benefits of aloe vera. Rounding off the day is a wine tasting in La Geria.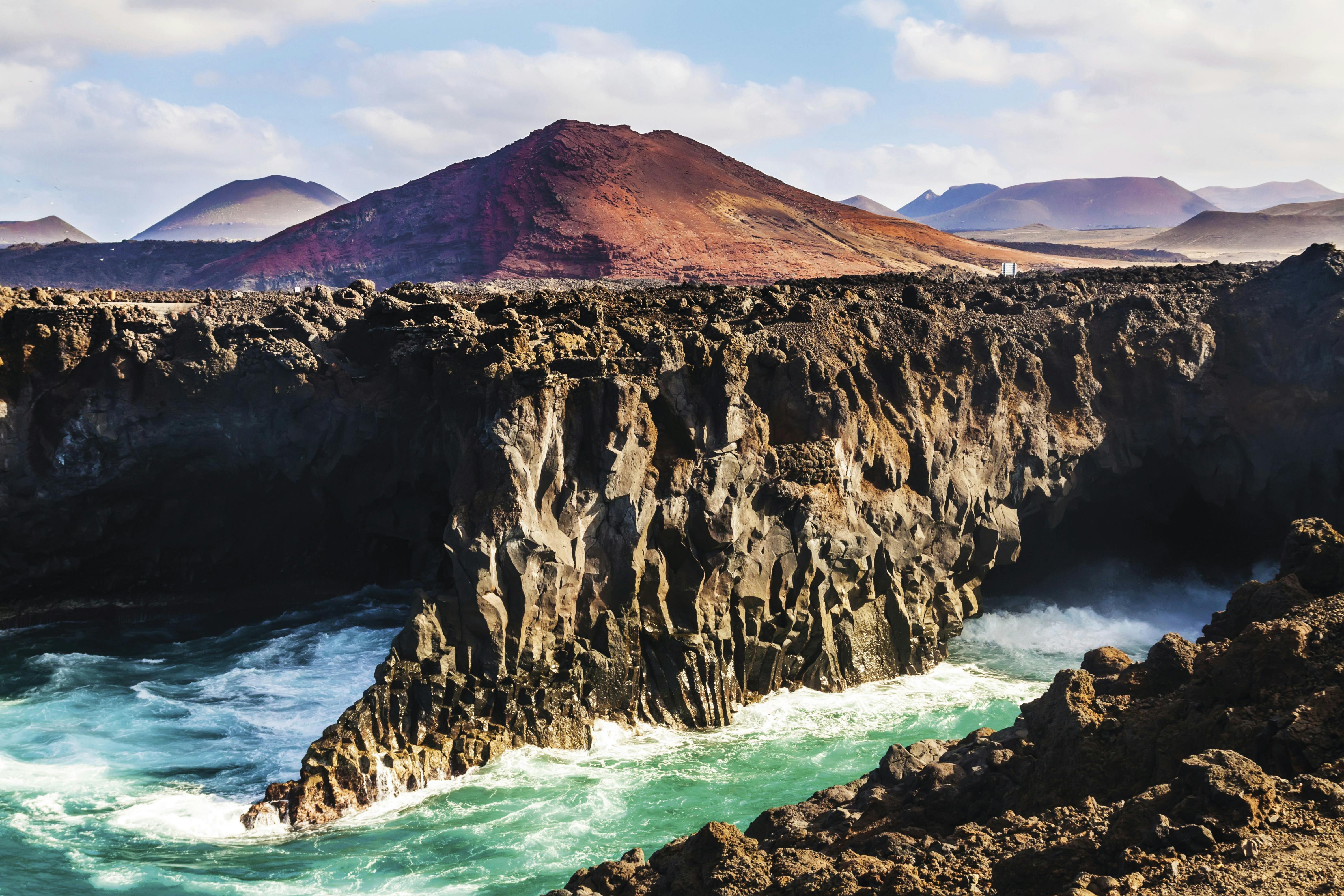 Corralejo Canarian Market only from Caleta
Everything is a celebration in Fuerteventura – even shopping. A visit to the Canarian Market in Corralejo is a real fiesta. We'll pick you up in Costa Caleta and drop you off at El Campanario Shopping Centre. As well as the usual shops, there are stalls selling typical – and very tempting – Canarian products, and a live band playing local tunes.
Corralejo is the hub of the north. Pastel-coloured homes line the seafront and fishing boats dot the beaches. And just a block away from one of the beaches is El Campanario. Designed like an old colonial village, it's one of the most atmospheric shopping experiences in the Canaries. Browse the handmade arts and crafts on sale, or try your hand at haggling if you're bold enough.
You'll then have free time to explore Corralejo at your own pace. Watch the surfers as you stroll along the beach or fishermen bring in their haul at the harbour. And if you're feeling peckish, you can tuck into the catch of the day in one of the many seafood restaurants.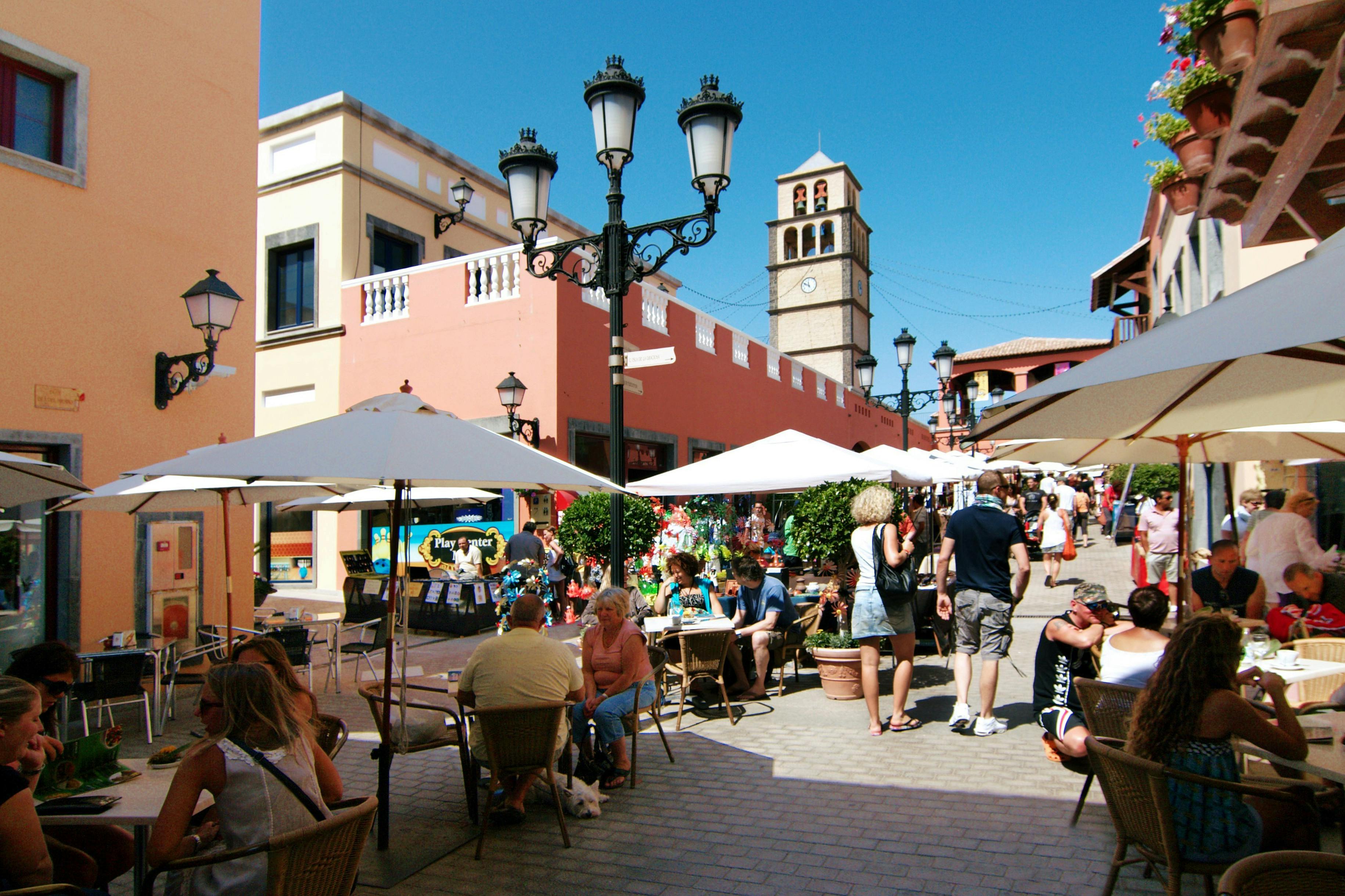 Corralejo Canarian Market only from Caleta
Segway
The two-wheeled Segway revolution has come to Fuerteventura. Sightseeing has never been more fun – and easier. Once you get the hang of it, the only way is forward. This Segway tours follow the coastal road and promenades on the shorter routes and inland villages on the longer routes.
After pick-up at your hotel, you'll be brought to the tour's starting point for instruction on how to use your Segway Personal Transporter. Once you're ready, the two-wheeled adventure rolls along promenades or tracks with some great views.
Segways are really easy to ride – sophisticated tilt sensors know when you are leaning forward, just like your brain does. A great way to explore Fuerteventura. There are five routes from different locations on the island – Fit for Fun 1-hour tour, North Shore 1.5-hour tour, Beach + Sun 2-hour tour, La Pared 2.5-hour tour, Las Salinas 2.5-hour tour and Tiscamanita half-day tour.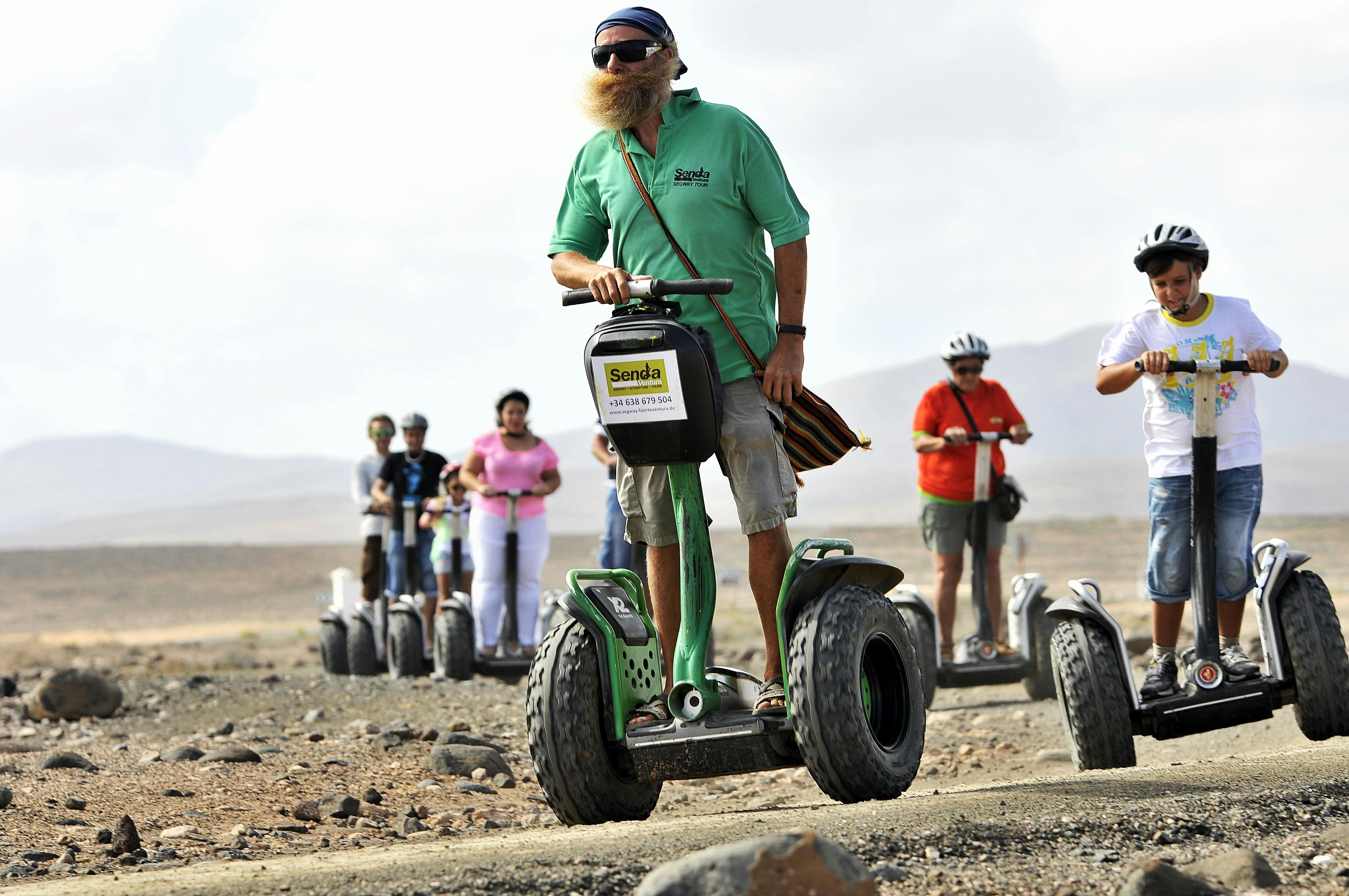 Lobos Pirate Adventure
The Cap'n and his merry crew have hidden their loot on Lobos Island – now you and the kids have to find it before the Cap'n can. This treasure hunt in the uninhabited volcanic island lying to the north of Fuerteventura is all about fun and games – with a pirate twist.
You'll climb aboard the glass-bottomed Celia Cruz in Corralejo, from where we'll glide over to Lobos Island. Once you've reached land, the adventure begins in earnest as a friendly pirate will use a map to guide the kids to the whereabouts of the hidden treasure. There'll also be lots of games to play on the beach.
It's up to smallest family members to hunt down the treasure with their new pirate friends and complete all the games while you sit back and take in the scenery. A beach picnic of a sandwich, fruit and drink is included, and there'll also be free time to swim and sunbathe, and check out the island. A great morning out for the whole family.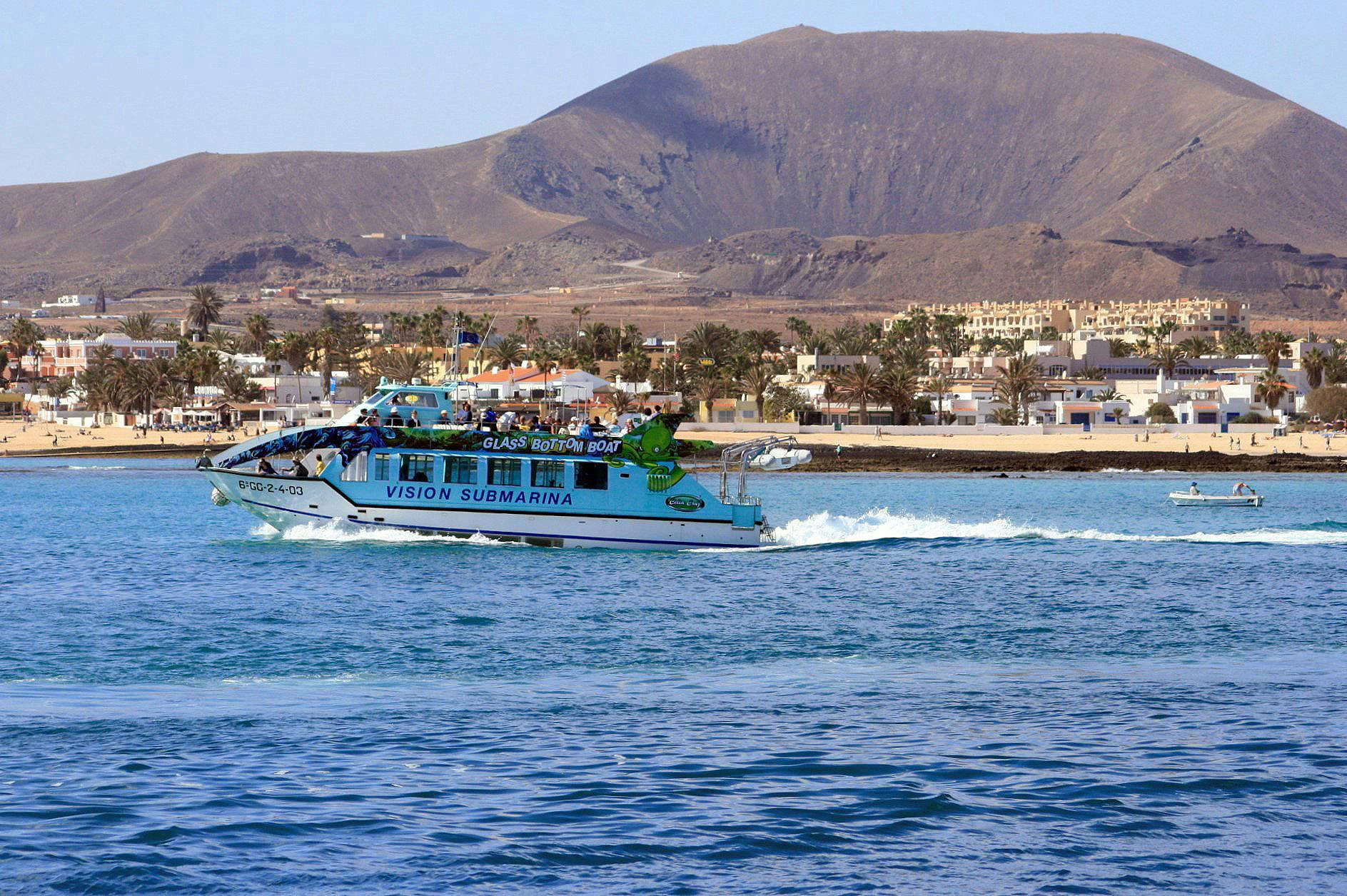 Corralejo Express
The hub of the north, Corralejo is one of the most exciting spots in Fuerteventura. Whether it's shopping, socialising or sightseeing, it's a hive of activity. And if you're based in the south of the island, there's no better way to discover the town than with the Corralejo Express bus. You'll be dropped off at the harbour and will then be free to explore at your own pace.
Pastel-coloured homes line the seafront and fishing boats dot the beaches. And just a block away, you'll find some of the best shopping in all of Fuerteventura, with plenty of handmade arts and crafts on sale. Just outside the town, you'll be able to check out the vast expanses of the Corralejo sand dunes – a natural reserve with 9km of coastline.
Watch the surfers as you stroll along the beach or fishermen bring in their haul at the harbour. Or maybe tuck into the catch of the day in one of the many seafood restaurants and enjoy the views of Lobos Island and Lanzarote in the Bocayna Strait.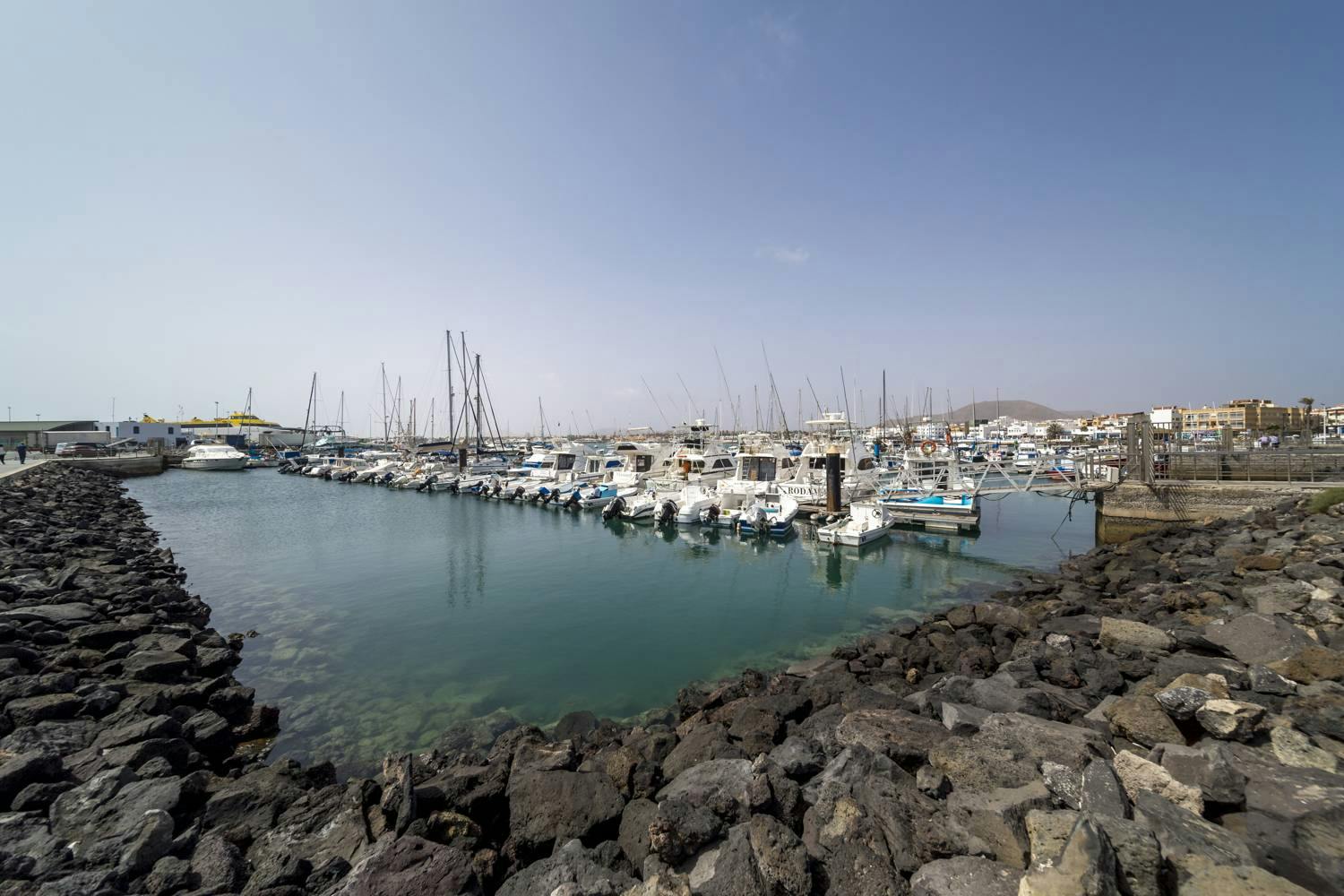 Jandia Express
Transfer to Jandia
Free time to sunbathe and explore
Express bus service
E-Bike Adventure
Discover Fuerteventura's natural beauty spots on a relaxing e-bike tour. With four routes to choose from, your e-bike can be used like any other bike or at the flick of a switch, can help you to get up those steep bits.
On the easy tour from the north, you'll pass ancient volcanic craters before a pit-stop at a local bar in Lajares. Take the advanced route from the north and you'll travel the dusty, desert roads towards El Cotillo lagoon. And on both trips you'll get to visit Calderon Hondo crater and take a well-earned swim stop too.
From the south, you can take the Costa Calma tour – a journey from east to west, over lunar landscapes and desert scenery, across the narrowest part of the island. Or, from the centre of the island, there is also the Caleta tour which takes in the Las Salinas coastline and then inland around the lunar landscapes as far as Puerto de la Torre. To finish, there is the option of a swim stop or to take a refreshing drink in a local bar.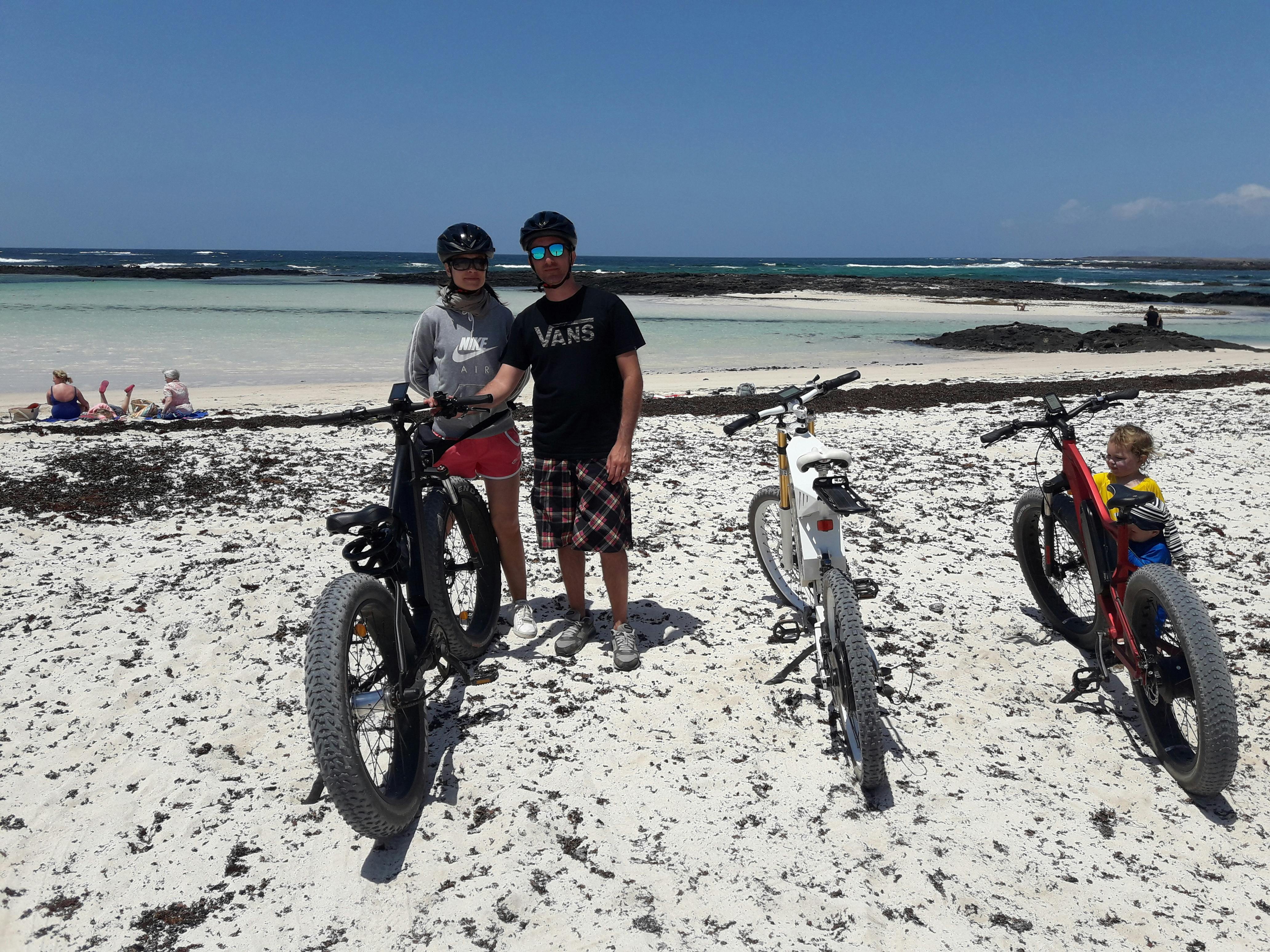 Lanzarote Express
If you're itching to explore another of the Canary Islands while you're in Fuerteventura, then this easy trip to Lanzarote will see you hopping there and back in a day. You'll catch the ferry over from Corralejo and dock in Playa Blanca, where it's up to you how you spend your time until the return ferry late in the afternoon.
The ferry will leave mid-morning for a quick 45-minute crossing to the volcanic lands of Lanzarote. Once you've stepped on to its shores, you'll have about five hours to explore, see and do as you wish. Playa Blanca's got a whole host of shops, bars and seafood restaurants lining the promenade, which are perfect for a spot of lunch.
There are also three beaches – two of which are Blue Flag winners, so you're guaranteed great sunbathing conditions. Alternatively, head out of town to see Los Hervideros, a string of wind and wave-battered volcanic cliffs, and one of Lanzarote's top attractions. Catch the ferry back in the late afternoon, and you'll be in Corralejo in time for a pre-dinner cocktail.